Democrats repeatedly attack Twitter Files witnesses at contentious hearing: 'Elon Musk's public scribes'
One ranking Democrat said Taibbi and Shellenberger 'pose a direct threat' to people who oppose them
House Democrats on Thursday repeatedly disparaged hearing witnesses Matt Taibbi and Michael Shellenberger, two of the media figures behind breaking the "Twitter Files," implying they were paid off and not true journalists.
On several occasions, Democratic members of the House Judiciary Select Committee on the Weaponization of the Federal Government suggested that the two witnesses were unbecoming of their title and had only covered the Twitter Files for monetary gain.
In addition, Taibbi and Shellenberger were accused of "cherrypicking" information from internal Twitter communications to support GOP talking points.
Stacey Plaskett, a Democratic delegate for the Virgin Islands and the committee ranking member, began her opening remarks by claiming the Twitter Files provided no evidence of pressure from the federal government onto the tech giant.
FTC RIPPED FOR GOING AFTER ELON MUSK: 'CLASSIC LEFT IDEOLOGY - GO AFTER THEM, TRASH THE FIRST AMENDMENT'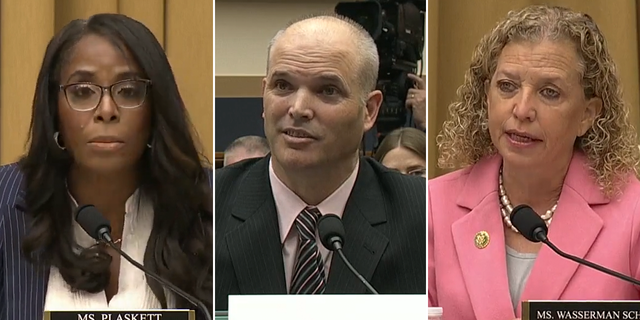 "This isn't just a matter of what data was given to these so-called journalists before us now. There are many legitimate questions about where Musk got the financing to buy Twitter," she said.
Her characterization of the witnesses sparked a response, with Taibbi shaking his head in disbelief and Shellenberger quietly laughing to himself.
Plaskett also referred to Taibbi and Shellenberger as "Elon Musk's public scribes" and accused them of releasing "cherrypicked" and "out-of-context" emails designed to promote the "chosen narrative" of Musk and Republicans.
At the end of her remarks, Plaskett played a video of former Head of Trust and Safety at Twitter, Yoel Roth, who last month told Congress that the information contained in the Twitter Files, as well as Musk's public comments against him, forced him to flee and sell his home.
"Mr. Chairman, I'm not exaggerating when I say that you have called before you two witnesses who pose a direct threat to people who oppose them," Plaskett said after the video concluded.
WHAT ELON MUSK'S TWITTER FILES HAVE UNCOVERED ABOUT THE TECH GIANT SO FAR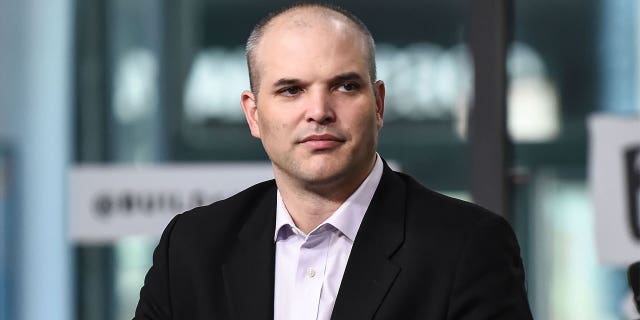 Her comments were met with strong words from Chairman Jim Jordan, R-Ohio, who demanded her words be struck from the record.
But, Plaskett doubled down and later tweeted her comments about Taibbi and Shellenberger posing a "direct threat" as well.
Shortly after that, Taibbi used his opening remarks to fire back, saying, "Ranking member Plaskett, I'm not a so-called journalist. I've won the National Magazine Award, the IF Stone Award for Independent Journalism and I've written ten books."
Rep. Debbie Wasserman-Schultz, D-Fla., later used her five minutes to make suggestive comments about Taibbi and Shellenberger's journalistic standards and their motivations.
Moments into her line of questioning, Schultz claimed that the mere fact Taibbi had been called as a Republican witness "casts a cloud" over his objectivity. She also described him as "Elon Musk's handpicked journalist" before adding, "pardon the oxymoron."
She then read off a quote from Taibbi, who told podcast host Joe Rogan on December 7, 2021, "Once you start getting handed things, then you've lost. They have you at that point and you gotta get out of that habit. You just can't cross that line."
TWITTER FILES PART 11 SHOWS HOW 'PR CIRIS' FOLLOWING 2016 ELECTION ALLOWED COMPANY TO EMBRACE INTEL COMMUNITY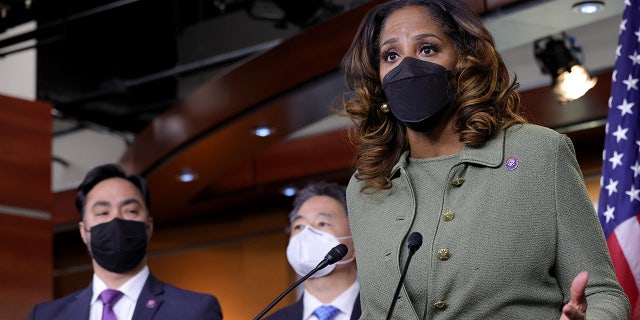 At the time, Taibbi talked about how journalists must understand the importance of releasing information to the public even with the knowledge that a source, such as the federal government, may hold their own motivations for making a journalist privy to that data.
"You crossed that line with the Twitter Files," Schultz said.
When Taibbi attempted to interject and denounce her characterization, Schultz reclaimed her time and instructed Taibbi not to interrupt. She then insinuated that Taibbi had knowingly peddled one-sided information for profit.
"Elon Musk spoon-fed you his cherrypicked information which you must have suspected was a slanted viewpoint, or at the very least generate another right-wing conspiracy theory. You violated your own standard and appeared to have benefited from it," she said.
Schultz, noting an increase in Taibbi's Twitter followers, also said it was "quite obvious" that he had profited from the Twitter Files.
In several instances, Democrats on the committee asked Taibbi who first approached him about the Twitter Files and when he told them they were confidential sources, they pressed for more information.
ELON MUSK GIVES DAVE RUBIN BEHIND-THE-SCENES LOOK AT TWITTER AND WHAT CAUSES SHADOWBANS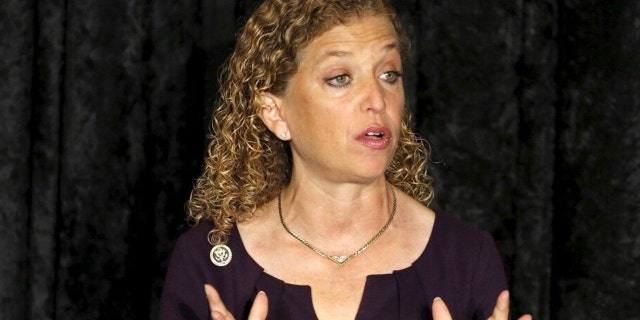 "Well, the attribution for my story is sources at Twitter and that's what I'm going to refer to," Taibbi said when asked by Plaskett.
Jordan then asked Plaskett if she was trying to get journalists to reveal their sources, but she denied the allegation.
The issue of sources later cropped up again when Rep. Sylvia R. Garcia, D-Texas, asked Taibbi when Musk first approached him to partake in the Twitter Files project.
Taibbi began to say he couldn't reveal that information when Garcia insisted she simply needed a date.
"I can't give it to you, unfortunately, because this is a question of sourcing, and I'm a journalist. I don't reveal my sources," Taibbi said.
Garcia said it's not about the source, but rather chronology, but he didn't agree.
"No, that's a question of sources," Taibbi said.
The Democrat from Texas continued to press the issue.
CLICK HERE TO GET THE FOX NEWS APP
"You earlier said that someone had sent you through the internet, some message about whether or not you would be interested in some information," Garcia said.
"Yes, and I referred to that person as a source," Taibbi shot back.
Garcia asked, "So you're not going to tell us when Musk first approached you?"
"Again, congresswoman, you're asking a journalist to reveal a source," Taibbi said.
Garcia asked if he considers Musk to be the direct source.
"Now you're trying to get me to say that he is the source, I can't answer your question," Taibbi said.
Garcia said the "only logical conclusion" is that Musk is a source, but Taibbi told her she was "free to conclude" whatever she wants.