Wreck Of Two 17th Century Spanish War Ships Found Off Peruvian Coast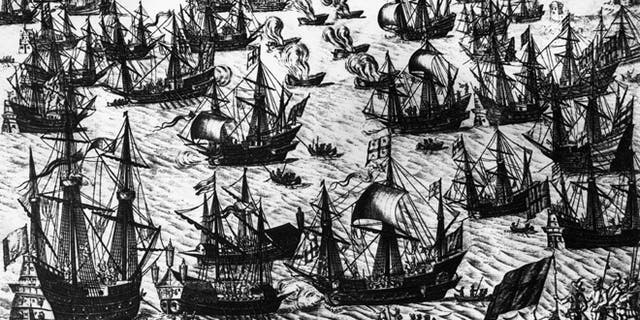 Lost at the bottom of the Pacific for over 400 years, two sunken Spanish warships could soon rise from the briny depths and see a port of call again.
No, this isn't the plot line for a new "Pirates of the Caribbean" movie, but a mission by researchers in Peru to bring two Spanish war galleons - the Santa Ana and the San Francisco - back to the surface after being sunk in 1615 by marauding Dutch naval officer and pirate Joris Van Spilbergen.
Investigator and historian Jorge Ortiz said that thanks to the use of metal detectors, magnetometers and memoirs, the sunken ships – part of the fleet that defended the Spanish Crown when Peru was a colony in the European nation's vast empire in the New World – are believed to be located some 93 miles south of the capital, Lima.
When they went down, the ships – carrying more than 300 men – were engaged in the Eighty Years' War between Spain and revolting Dutch subjects. After sinking the Santa Ana and the San Francisco, Van Spilbergen sailed north, making attacks in Mexico and later the Philippines.
The underwater excavation of these ships will give historians and researchers a glimpse into the maritime life in the Viceroyalty of Peru, which once covered much of South America. Many similar boats from this period were destroyed in an earthquake and tsunami in 1746.
The National Geographic Society and Peru's culture ministry are sponsoring the research, which is expected to uncover ship fragments, artillery, ammunition, glass and ceramics.
"No gold, no silver," said Ortiz, in an effort to quell rumors of buried treasure, according to Reuters. "But there will be invaluable clues about our history and culture."
The idea of Spain and Peru working together on a joint investigation is something of a rarity following a recent dispute over 17 tons of silver and gold coins found in the wreck of a colonial-era sailing ship.
The treasure's origin is not in dispute. The metals were mined and the coins minted in the Andes. The Spanish navy frigate that was carrying them to Spain exploded during an attack by British warships in 1804.
Peru argued it should get the precious metal recovered from the Nuestra Senora de Las Mercedes. But its legal case was sunk in large part by a historical fact: This country was, at the time, a Spanish dependency. It didn't gain independence until 1821, the last bastion of Spanish rule in South America.
"It is uncontested that the Mercedes is the property of Spain," a three-judge U.S. appeals court ruled in September.
The Associated Press contributed to this report.
Follow us on twitter.com/foxnewslatino
Like us at facebook.com/foxnewslatino