World's youngest psychologist is a Mexican 13-year-old who is in no hurry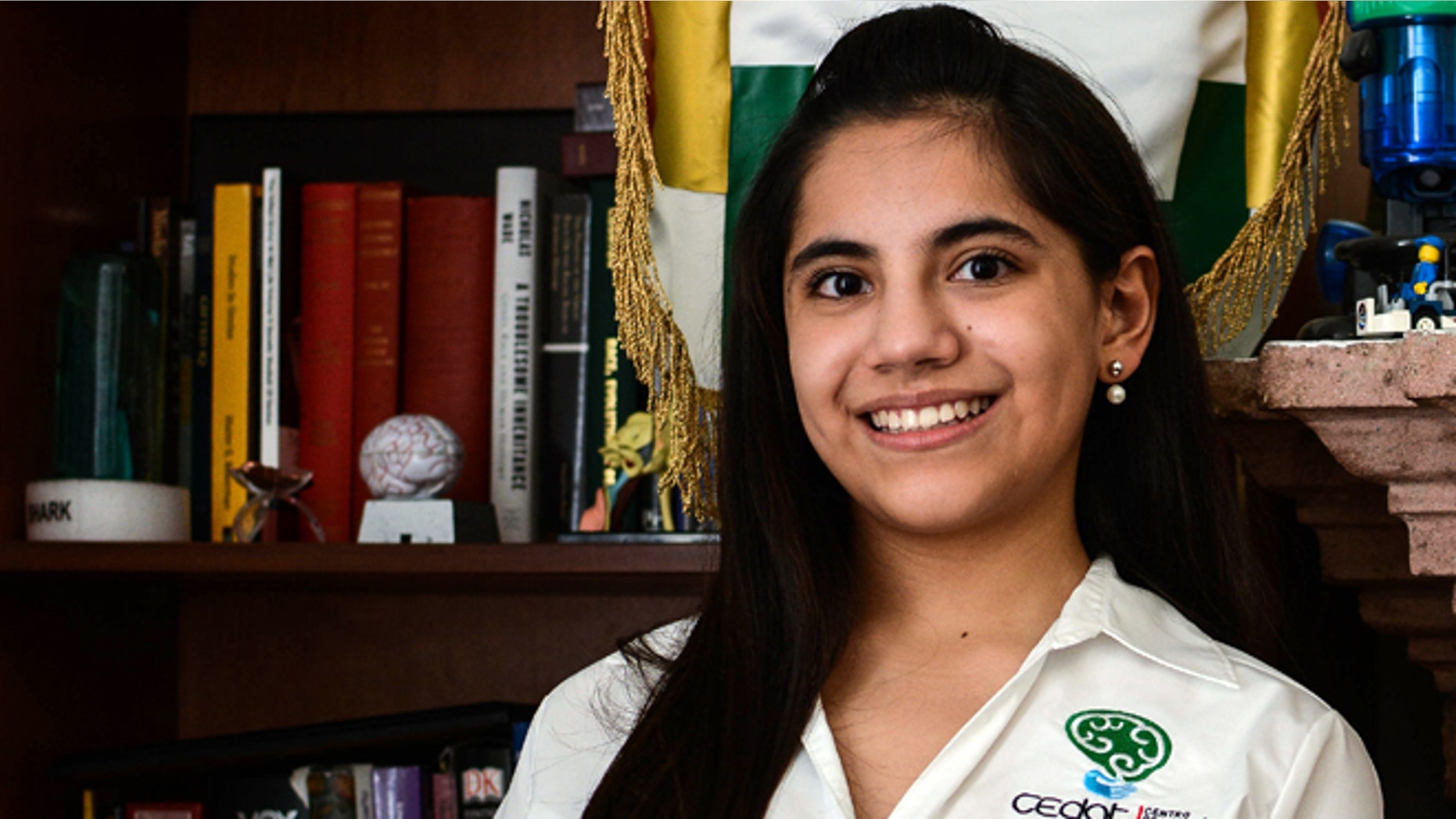 MEXICO CITY – When the news broke in August that Mexican teenager Dafne Almazán had just become the youngest psychology graduate in the world, some social media users asked themselves whether she would even be capable of treating patients at the tender age of 13.
They need not worry though, because Almazán, Mexico's most famous current child prodigy, isn't thinking of opening a practice just yet.
"I'm still too young to be working," she told Fox News Latino. "I need to study more, gain more experience, both professionally and as a person."
Almazán became Mexico's most famous "baby genius" last summer, when Forbes named her one of Mexico's 50 most powerful women.
I just try to be the best at everything. I want to get the most out of myself.
She received the honor mostly because of how her example may inspire the country's schoolkids – and especially the approximately 1 million super-gifted children – in a country where education lags and excellence is often difficult to achieve.
This summer, she received bachelor's degree in psychology at the Mexico City campus of the prestigious Monterrey Institute of Technology and Higher Education (ITESM). In Mexico, people who earn undergraduate degrees in psychology are able to get licensed to practice in the field. Almazán is now enrolled in a master's program at her alma mater and may eventually seek a doctorate's degree.
Her graduation garnered plenty of media attention, but Almazán herself seems unfazed.
When speaking, Almazán rarely stops smiling. Soft-spoken and extremely polite, she measures every word, clearly comfortable with being in the spotlight.
"It's been a little harder with all the recent media attention," she said, "but I don't think it distracted me from studying. I just try to be the best at everything. I want to get the most out of myself."
When not studying, Almazán paints, practices tae kwon do (she has a yellow belt), plays the piano and tutors kids.
"It's all a matter of discipline," Almazán said when asked how she manages to cram so many activities into a single day. "I get up at 7 in the morning, I exercise, do my homework and study. When I'm done with my studies, I spend time on my hobbies."
Her relaxed attitude is partly based on her protected upbringing; Almazán is the third of three siblings. Her brother Andrew (20) and sister Delanie (17) were also child prodigies.
Andrew earned bachelor's degrees in psychology and medicine and a masters in psychology by age 18. He has since become one of the leading authorities on super-gifted children in Mexico. The less visible Delanie followed a similar academic career and, since very young, has showed an abiding interest in literature.
With such exceptional children, it's no wonder that their father, Asdrubal Almazán, founded the Center for Attention to Talent (Cedat), a research and educational institution devoted to identifying and attending to Mexican kids with genius-level capabilities.
With some 250 children like Dafne now attending courses at Cedat, it has become the largest institution of its kind in Latin America.
When in Mexico City, Almazán spends most of her time at Cedat – she says she has never set foot in more conventional schools in Mexico.
"My parents noticed I was different from other children when I was 2 years old," she told FNL. "I was already able to read and write at that age, and with the earlier experience of my brother and sister, my parents were able to diagnose me very early. I am very thankful for that, because that way they could give me the special attention I needed."
Many child prodigies are diagnosed with ADHD and suffer from bullying in schools. Such was the case with Dafne's brother, Andrew, who was taken out of a regular school at age 9 because he was continuously being harassed.
"I was never bullied, thankfully, because I was diagnosed when I was very young and my parents knew what had happened to my brother and sister," Almazán says. "But bullying is unfortunately something that happens to many children who attend the Cedat. They are bored at school and rejected by their classmates and even their teachers. Most children don't get the support from their parents that I did."
Despite her protected upbringing, Almazán doesn't feel she missed out on anything. "I played a lot when I was younger, especially with my brother and sister. I really enjoyed my childhood."
The media attention might turn a less grounded person's head or increase pressure for succeed in graduate school.
"It doesn't make me nervous," Almazán said. "It's a great opportunity to show other kids what you can achieve by working hard and studying."
And that, ultimately, is her goal.
"I don't want to look too far ahead," she told FNL. "Right now my goal is to finish studying with the best possible grades. Eventually I'd like to help other gifted children to get the most out of their talents."