The Daily Spike: Wine, cheese, puppies and a tow truck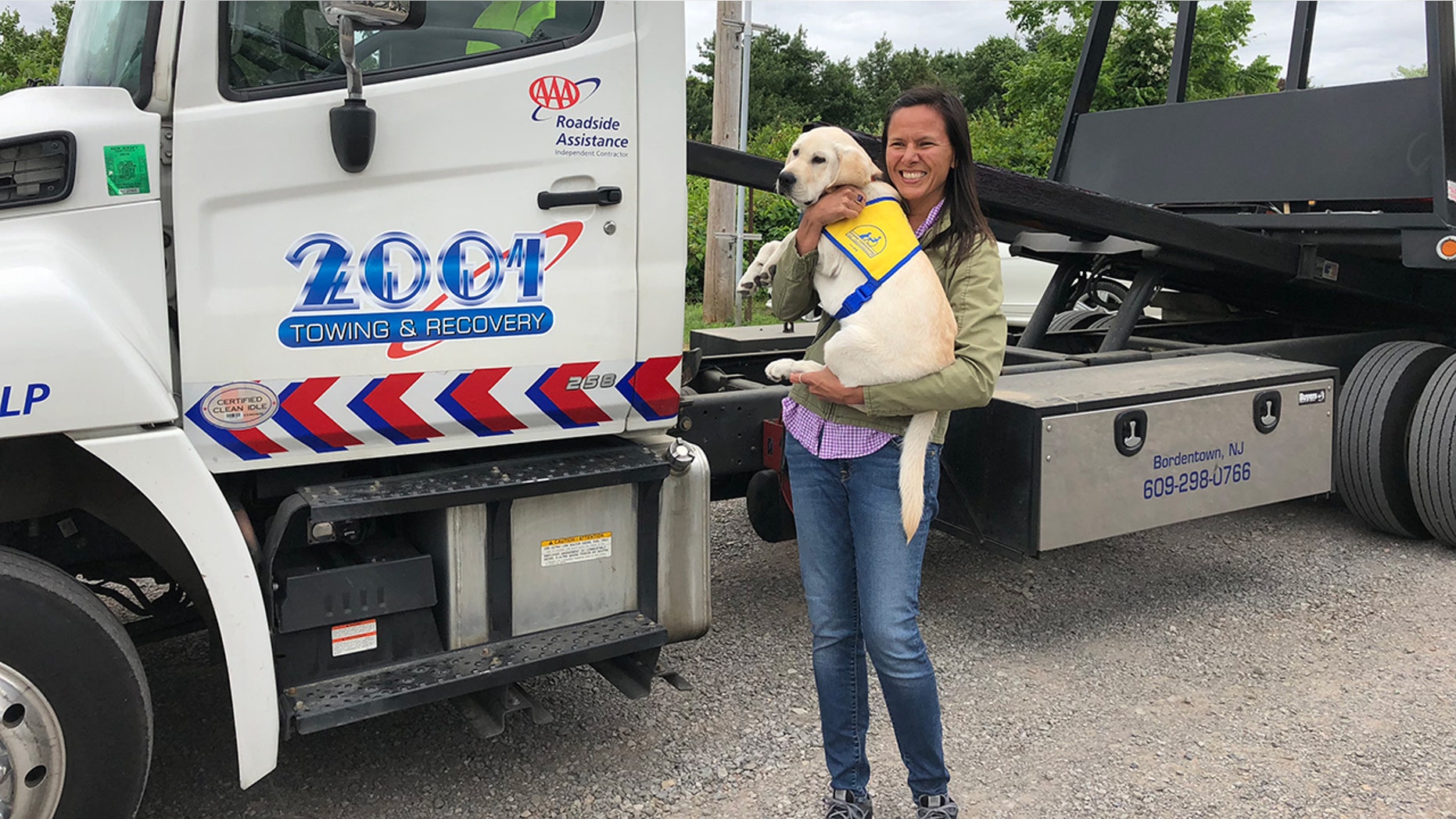 Wine? Check. Cheese? Check. Chocolate? Check. Dogs and puppies? Check and check.
For the past four years, the Canine Companions for Independence New Jersey chapter has held a social event and fundraiser at Old York Cellars in Ringoes, New Jersey. It's a great afternoon to swap stories and training tips with other puppy raisers, graduates and their service dogs.
I really wanted to go, and knew Spike's brother, Swain, would be there — and those two love to romp around! It would be a great opportunity to highlight some of the other puppy raisers and graduates in this blog, and bring a camera crew to capture it all.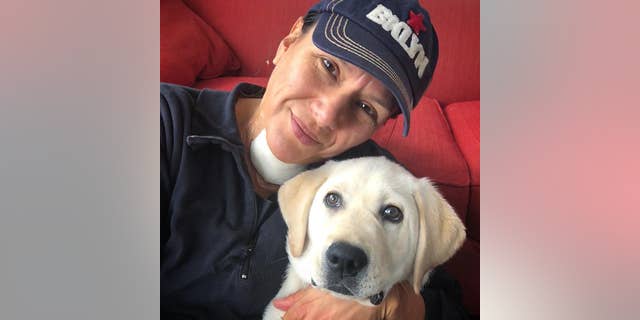 You've heard a lot about Spike, but he's just one of many future superheros in training — so let's make this week about Spike and friends!
The problem was I still wasn't feeling great, being three weeks out from my thyroidectomy. I'm still super tired, have zero energy, and can't talk for extended periods of time as my throat and vocal cords are still sore. The thought of just sleeping all day was really enticing.
The other problem was that the winery was a 90-minute drive from my apartment in Brooklyn and you have to drive through Manhattan, which I hate.  Oh, and I don't own a car.
Luckily, good friends loaned me their car for the weekend, so I could save some money on a rental. And it was a sweet red convertible nonetheless! Spike and I would be styling for our Sunday drive.
Unfortunately it was a cold and slightly rainy day, so the top stayed up. The drive was relatively easy, until we were about 5 miles from the venue.
Many great things come from New Jersey. Bruce Springsteen. Bon Jovi. "Jersey Shore." Taylor ham/pork roll.  Did you know even bubble wrap was invented in New Jersey? And pot holes! They've got some good ones in Jersey. And I hit one.
I was going maybe 40 miles per hour and the car seemed to drive fine. But about a mile before my destination, the engine light comes on. I pull into the winery, the tires don't look bad. I'm running a little late, the camera crew is already there, waiting for me, so I get cracking.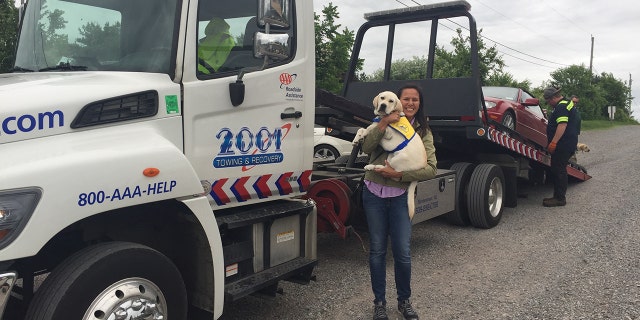 I'm trying to keep Spike as behaved as possible while interviewing the other Canine Companions volunteers and graduates. I was juggling a lot and the husband of one of my fellow puppy raisers offered to help me out with Spike. I'd never met him but puppy raisers and their spouses are always willing to give a extra hand.
THE DAILY SPIKE: EARLY MORNING PUPPY TRAINING
I spent the next two hours filming, interviewing graduates and puppy raisers, and hearing about how Canine Companions has changed their life in a variety of ways. It's always incredibly inspiring to hear the graduates' stories about what their dogs do for them.
The whole event was really special, but also very exhausting for me. I was ready for the long drive home. As I'm heading to pack up the car with two cases of custom #TheDailySpike wine, Mark, the camera guy, tells me I've got not one, but TWO flat tires.
Have you ever had one of those moments where you're completely exhausted, not feeling great, have had a mentally challenging day, and then someone drops some bad news on you and you have no idea how to figure it out?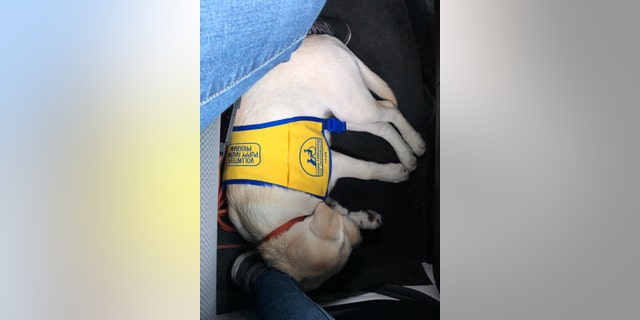 That was Sunday 2 p.m. for me in Ringoes, N.J.
Making matters worse? I don't own a car, and don't have triple-A.
Mark and the audio guy, Randall, immediately started brainstorming. Neither of them lived in the city, but were more than willing to go ridiculously out of their way to drop me and Spike off there. That incredibly generous offer was so welcomed, but I still needed to deal with my friend's car.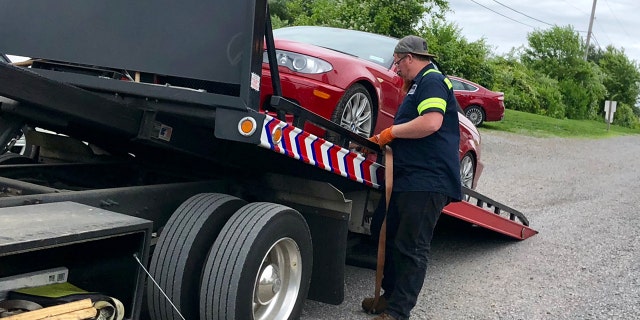 The first tow company I called said it would cost $129 for the first 10 miles and then $4 per mile for every mile after that — and I was 68 miles from home. I'm normally pretty good at math, but I was having a hard time computing how much it would cost me to get the car to Brooklyn. "A lot," I figured.
THE DAILY SPIKE: THE POWER OF A DOG DURING RECOVERY
A bunch of fellow puppy raisers I had just met were loading their dogs and belongings into their cars near me and could see I was struggling.
Jane Nagy and Ann and Bob Benson came over, asking if I needed help. I managed to tell them I had two flat tires and couldn't figure out how to get the car back to Brooklyn without taking a second mortgage out on my apartment.
So after more brainstorming, Jane offered to use her triple-A membership to get the tow. However, this meant she would have to stay to show her ID when the truck arrives. So Jane, Ann, Bob, and Caryl Swain all stayed and kept me and Spike company.
We headed into the wine-tasting room with the dogs. I hadn't had a chance to enjoy the wine as I was filming, and thought I would be driving. So I enjoyed a glass of wine with my new friends and watched the puppies play. They were exhausted, and soon slept on top of one another on the floor. That's the thing about dogs: They become fast friends with their humans and other dogs, and take such comfort being so close to one another.
After an hour, Jane gets an update from AAA, and they said they were having trouble finding a tow company because we were so far out and needed to return to the city. After another half hour, they found someone but told me I'd need to wait another hour. I implored my new friends to go home, but they didn't.
After almost three hours, the tow truck finally shows. Corey gets right to work and has us all loaded up in no time. Spike and I get ourselves into the passenger side for the long journey home. I found myself quite emotional as Spike and I said goodbye to my friends, who I now call "Team Flat Tires."
Spike slept almost the whole two-hour drive to the auto shop in Brooklyn. Corey couldn't have been nicer, chatting about Canine Companions and music, and getting snacks from Wawa. (Wawa! one of the great perks of driving through New Jersey.) I couldn't have had a more pleasant tow truck ride and driver for our two-hour journey.
FOLLOW US ON FACEBOOK FOR MORE FOX LIFESTYLE NEWS
See, the thing about the people you meet while volunteering with Canine Companions for Independence is that they almost instantly become family. We all have a shared goal, to help people with different abilities. And raising service dogs is one way we can help. Everyone I have met at Canine Companions are such special people with loving hearts. And even the tow truck drivers who come to rescue can be just as special as the puppy lying at our feet.
For more information about Canine Companions for Independence visit the organization's website.