The 2018 White House Easter Egg Roll offers fun, games, and plenty of 'egg pops'
Since 1878, under the presidency of Rutherford B. Hayes, the White House has hosted an annual Easter Egg Roll.
The event brings in families from all over the country for a day of Easter-related festivities. Kids can participate in the egg-roll, folks can chomp down on egg "pops," and the first lady is even presented with an ornate commemorative egg.
But who provides all these eggs? None other than the American Egg Board.
DISNEY CAN'T STOP SELLING OUT OF THIS SNACK
The board, being the marketing arm of the U.S. egg industry, largely focuses on research, education and promotion of the nutritious Easter staple, but a key highlight is always its participation in the White House Easter Egg Roll.
President and CEO of the American Egg Board, Anne Alonzo, tells Fox News it's an honor to be included in the festivities, and to unveil the 2018 commemorative egg at one of the biggest celebrations of the season.
"It's probably the ticket you most want. It's a hot ticket," Alonzo tells Fox News. "The kids and the families are so excited to be there."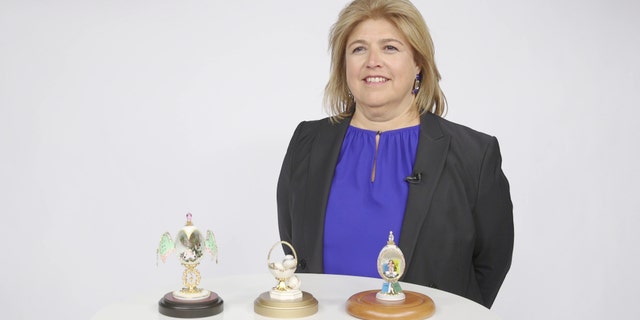 Alonzo says the board provides a whopping 30,000 eggs for the event, 15,000 of which are hardboiled, dyed and used for the races, while the remaining 15,000 are turned into egg pops.
ICE CREAM SHOP SLAMMED OVER 'BLASPHEMOUS' NAME
And the most distinct privilege at the event, perhaps, is presenting the first lady with a beautifully decorated egg to commemorate the holiday.
These decorated eggs aren't much like your dyed, run-of-the-mill Easter eggs, either. Every year, these magnificent commemorative  keepsakes are intricately designed by only the most elite egg artists. In fact, the American Egg Board only accepts designs from the best.
"This is a prestigious honor," says Alonzo. "We will only look to artists that have a master-level competency."
The 2018 design comes from Deborah Grassel, who resides in Austin, Texas, and holds a Masters in Egg Art from the International Egg Art Guild. Over the course of her 21 year career, Grassel has decorated more than 400 eggs — and surprisingly, she has only broken one in that whole time.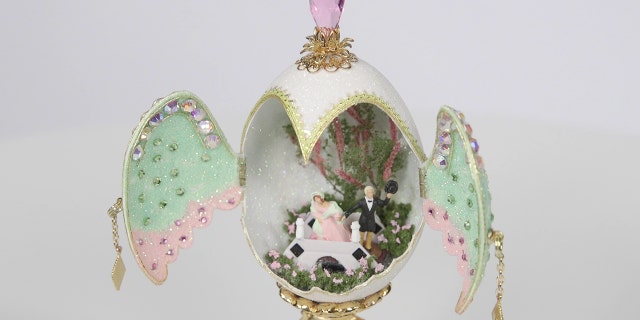 Grassel's 2018 design, dubbed "Wings of Prayer," features angel wings that actually open to unveil a handmade bridge holding President Trump and first lady Melania Trump. Grassel says she was inspired by Melania's elegance.
FOLLOW US ON FACEBOOK FOR MORE FOX LIFESTYLE NEWS
For more about the 2018 White House Easter Egg Roll, check out the rest of the segment above.