Study finds U.S. students, regardless of race, prefer teachers of color over white ones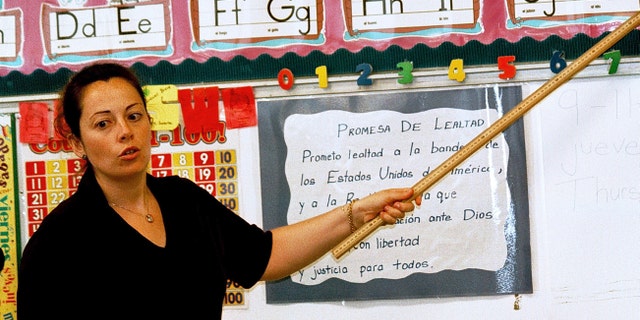 NEWYou can now listen to Fox News articles!
A majority of middle and high school students in the U.S. have more favorable perceptions of black and Hispanic teachers than of white ones, a new study suggests.
The study, conducted by New York University in six U.S. school districts across the country, analyzed more than 50,000 sixth to ninth graders from 2009 to 2010, and 1,680 educators.
Students were evaluated on their perceptions of teachers on the so-called "7Cs" – challenge, classroom management, care, confer, captivate, clarify, and consolidate – measuring the kid's feelings about how they were treated, and how engaged they were in course material.
Among other things, the students said that Latino and black teachers are have higher standards and are more relatable to students.
"In virtually all models, Latino teachers are more positively perceived by students across the seven outcome measures," the report says. "Students perceive black teachers more than their white peers to hold students to high academic standards and support their efforts, to help them organize content, and to explain clearly ideas and concepts and provide useful feedback," wrote the authors of the study, which was published earlier this week on Educational Researcher.
The rub is that only 17 percent of teachers in the workforce are black, Latino or Asian-American.
In Boston, for example, there is just one Hispanic teacher for every 52 Latino students, and one black teacher for every 22 African-American students, according to a blog in the New York Times. The ratio of white teachers to white students: one to fewer than three.
In New York City, where more than 85 percent of the students are racial minorities, 60 percent of the teachers are white.
"If you're a black teacher, you understand you're not in the mainstream and you know how to navigate the world essentially embodying an identity that is sometimes highly stigmatized," Cherng told the Huffington Post.
He said that in middle school "kids are struggling with their own identities and how to come to terms with their own difference and development. I think these middle school teachers can use their own identities and experience to bridge that relationship with all types of students."
Cherng taught at a middle school himself that was almost 100 percent black. Cherng is Chinese-American. He said that thanks to his own experience he found it easy to talk to his students about race.
"One of the kids was like, 'You don't actually know what it's like to be us, but you understand what it's like to be different, so you know that you're different, and we're different, and that's enough,'" Cherng recalled to the Huffington Post.
The reason for the preferences, the NYU study surmises, is that Latino and black teachers are more multi-culturally aware than their white peers, leading to better classroom environments.
Minority teachers are better able to translate their experiences and identities to form rapports with students, even though they may not share the same race or ethnicity.
"A diverse teacher workforce isn't just a nicety—it's a real contributor to better outcomes in our schools, workplaces, and communities," Secretary of Education John B. King Jr. said in a recent Department of Education report. "It's important for students of color to have role models who look like them and share common experiences."
Like us on Facebook
Follow us on Twitter & Instagram