Spain's 'El Nino' Lottery Lends Helping Hand Amidst the Recession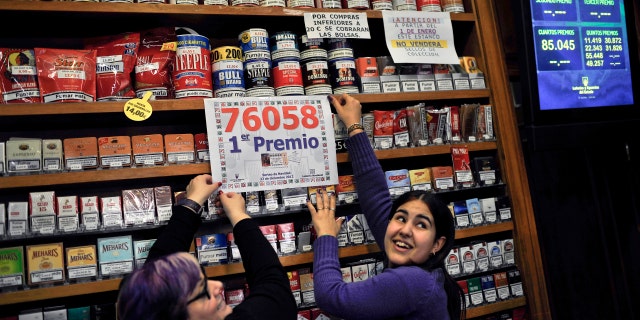 Madrid – For some lucky lottery ticket holders in Spain, there was nothing childish about the "El Nino" lottery.
On Sunday the lottery showered €840 million ($1.1 billion) on three ticket holders in five regions of Spain, a country in the midst of a deep recession and high unemployment.
The "El Nino" (The Child) lottery is held each Feast of the Epiphany — Jan. 6 — and the top prize tickets were sold in Alicante, Leon, Madrid, Murcia and Tenerife. The lottery's name refers to the baby Jesus, who according to tradition was visited this day by three kings of Orient bearing gifts.
The lottery tickets cost €20 ($26), and the most one can win is €200,000 ($260,240). But there's a catch. Thanks to new austerity measures aimed at reviving Spain's ailing economy, anyone who wins above 2,500 euros ($3,250) in the lottery has to pay 20 percent income tax on their windfall.
On Sunday, a cheering crowd gathered outside one ticket office in the southwestern Madrid suburb of Alcorcon where 200 of the winning numbers were sold, totaling €40 million ($52 million) in prize money.
"I am very excited because I really needed this," said Josefina, one of three winners celebrating there. "Now that I've won, I just think I've been very lucky," said Josefina, who declined to give her surname.
Spain's most lucrative lottery, "El Gordo" (The Fat One), is held Dec. 22 and last year distributed €2.5 billion ($3.3 billion) in prize money.
Based on reporting by the Associated Press.
Follow us on twitter.com/foxnewslatino
Like us at facebook.com/foxnewslatino