Prominent Chilean priest punished for sex abuse maintains his innocence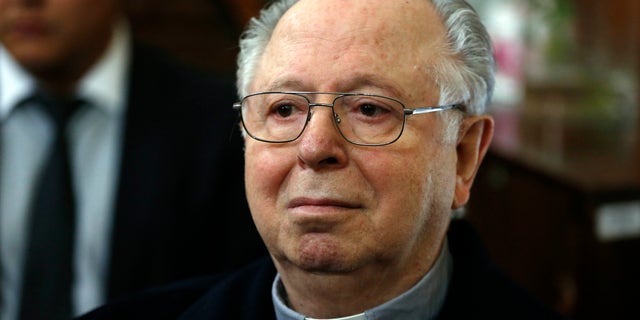 SANTIAGO, Chile (AP) – A prominent priest who has been punished for sex abuse by the Vatican proclaimed his innocence in court Wednesday, testifying in a case that three of his alleged victims brought against Chile's Catholic Church.
Gray-haired and balding, the Rev. Fernando Karadima walked into court wearing a Roman collar and left holding rosary beads, flanked by police officers after being questioned for more than two hours.
Angry protesters waited outside. Some screamed "Pedophile!" and banged on the tinted windows of the dark SUV that drove him back to the convent where he has been living in isolation since the Vatican ordered him to a life of penance and prayer in 2011 for abusing young boys.
"I don't recognize the abuses, with children. Never, ever," Karadima testified, according to a court transcript obtained by The Associated Press. "I maintain my innocence ... I never had sexual relations with those who accuse me."
Karadima was once one of Chile's most popular priests. He led the parish of El Bosque in Santiago for nearly six decades before the abuse allegations came to light in April 2010, when a news investigation into the charges was broadcast on state television. Two months later, the then archbishop of Santiago, Cardinal Francisco Javier Errazuriz, forwarded the allegations to the Vatican amid an eruption of abuse cases globally.
Victims say allegations against Karadima were reported earlier but were ignored by the cardinal. Errazuriz, who is one of nine cardinals on Pope Francis' key advisory panel, has acknowledged in court testimony that he failed to act on several abuse allegations because he believed them to be untrue.
A Chilean judge later determined the abuse allegations against Karadima were truthful but ruled the time limit had expired for him to be prosecuted.
The three victims who filed the lawsuit accuse Chile's Catholic Church of a cover-up and are demanding a total of $640,000 in compensation and a public apology. The church has rejected the accusation.
Karadima testified Wednesday that he first found out about the abuse accusations against him in 2010 through press reports, and said he was never sanctioned by his superiors, according to court documents.
"He has not changed his stance of denying everything, of not recalling even things that he said before," Juan Pablo Hermosilla, a lawyer for the three victims, said after the hearing.
"His statement had a lot of 'I don't remember' in it, which was expected. He recalled only when it was convenient to him."
The Vatican's punishment for Karadima is one often used for elderly priests who sexually abused children years ago. Rather than subject the priests and victims to a lengthy church trial, which might not end before the priest in question dies, the Vatican can impose an administrative sanction such as the one Karadima received, which essentially renders the man a priest in name only.
But Karadima has remained defiant. Although he was also ordered by the Vatican to never again celebrate a public Mass, he was photographed disobeying the order last year. Chile's top church leaders later confirmed his act of insubordination and sent the case to the Vatican for investigation.
On Wednesday, Karadima paced the halls of the courthouse smiling confidently after claiming his innocence.
When he was asked in court the circumstances that led to his removal as head of the El Bosque parish, he said it was age related — he had turned 75 and served for 24 years there.
Pope Francis has been criticized by abuse victims and Catholic faithful for nominating the Rev. Juan Barros, a Karadima protege, to be bishop of the southern Chilean city of Osorno, even though at least three of Karadima's victims said the prelate knew of the priest's crimes and did nothing.
Recently aired TV images showed Francis defending Barros. In the video, shot in May and broadcast by a Chilean channel, the pope blamed "leftists" for a campaign against Barros.
"Don't let yourselves be led by the noses of all the leftists who have plotted this," the pope said in the video, speaking to Chilean visitors at the Vatican. He noted the allegations against Barros had been dismissed by a Chilean court.
When he was asked in court Wednesday to explain his relationship with Barros, Karadima said: "We had a very sincere friendship," adding that Barros got him a trip to France with the bishop of Louvre to celebrate the 50th anniversary of his priesthood.