Pope Francis' magnetic draw on Latinos reinfuses energy into U.S. Catholic Church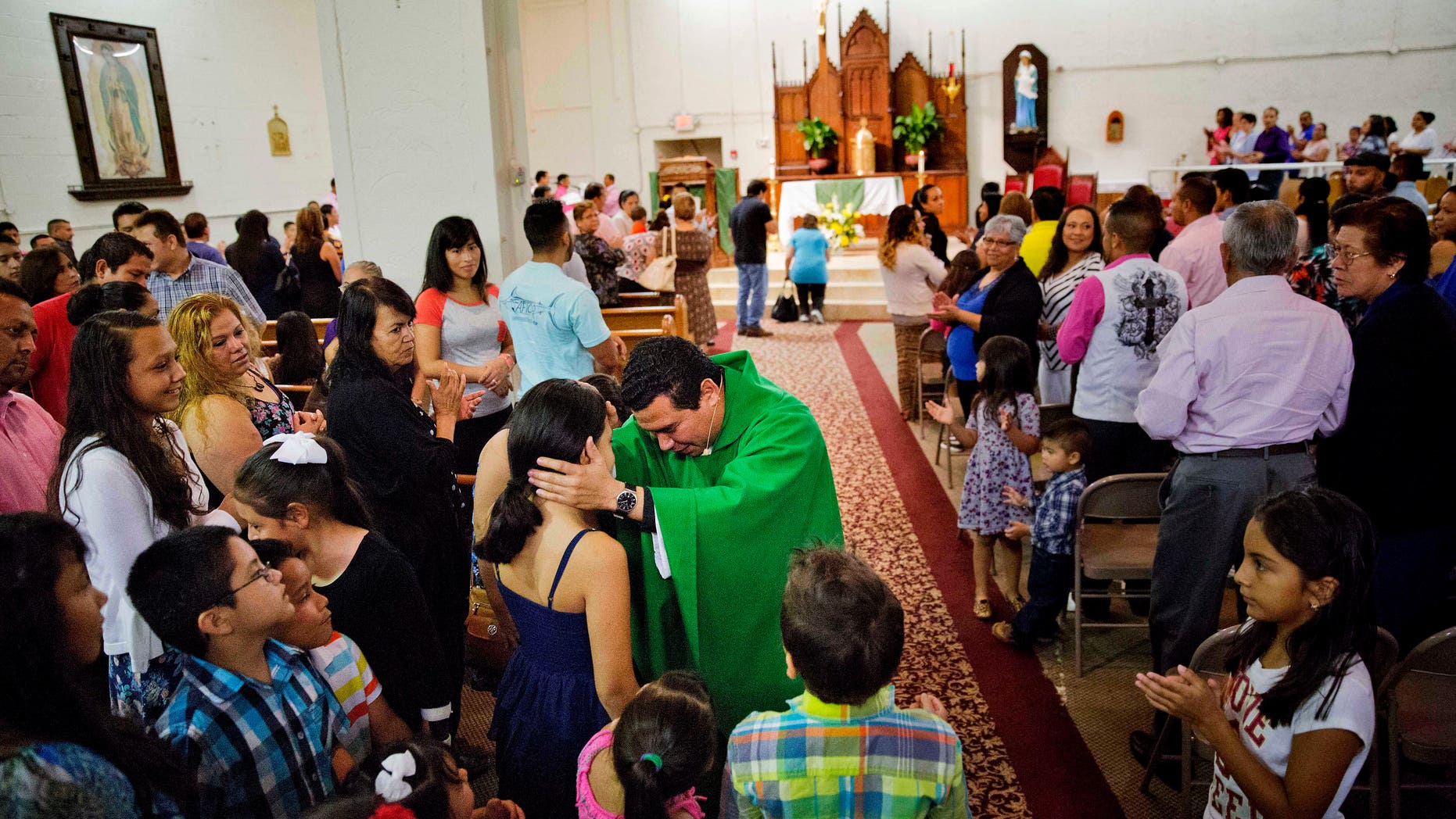 Miami – Idania Cortez is walking out of Santa Barbara Catholic Church in Hialeah, Fla., shortly after the Spanish-language Mass on the Sunday morning before Labor Day. An olive skinned Nicaraguan-American with a bubbly personality and wavy black hair, Cortez hasn't missed a service in six months — after spending close to 25 years away from the Catholic Church.
Shortly after arriving in the U.S. in 1991, Cortez separated from her husband and the father of her eldest daughter. Two years later, she got divorced and remarried. "The Catholic Church in Nicaragua is very strict," she said. "I didn't believe I could participate in the sacraments."
Cortez found heavenly solace at a makeshift Christian church in a Hialeah warehouse near the Palmetto Expressway in Miami-Dade County.
Through his use of metaphor and gestures, Pope Francis is really speaking to the hearts of the people in Latin America.
Her attitude changed shortly after Pope Francis ascended to the papacy in 2013. "He is in tune with the modern era," Cortez told Fox News Latino. "He doesn't judge people and he understands the struggles of the common person coming from Central America."
As Pope Francis prepares for his historic visits to Cuba and the U.S. later this month, the former Archbishop of Buenos Aires is inspiring Latino Catholics like Cortez to renew their faith at a time the Church has lost a sizable portion of its Latino congregation, according to theological scholars and experts.
About 38 percent of adult Catholics in the U.S. are Latino, according to the CARA research center at Georgetown University, and they are already the majority in several dioceses.
Their numbers are increasing at the same time a steady stream of American Catholics overall are leaving the faith. Immigration and the high birth-rate for Latino Catholics have more than made up for the losses, helping the 68-million-member denomination continue to grow.
And a national poll earlier this month by the Quinnipiac University found that a majority of Hispanic respondents, who accounted for 11 percent of the 1,829 American adults surveyed, have high praise for Latin America's first pope.
According to the poll, 16 percent of Hispanic adults have a "very favorable" opinion of Pope Francis, while 56 percent have a "favorable" view of him. Roughly 47 percent of the Hispanic respondents said the Catholic Church is moving in the right direction and 67 percent believe that Pope Francis and their local church leaders are in touch with the views of American Catholics.
John Gehring, Catholic program director at Washington D.C.-based religious strategy center Faith in Public Life, told Fox News Latino that Latino Catholics have seen their connection to the Church become tenuous in recent years.
"Pope Francis has pumped a shot of energy into the U.S. Latino Catholic population," Gehring said. "Not only is the pope a rock star, but there is a special cultural connection that runs deep."
Gehring, who recently authored the book, The Francis Effect, noted the pope is making overtures to Latino Catholics. "During his visit he will give many of his homilies in Spanish," he said. "That is a source of pride for many Latino Catholics and a signal of the shifting demographics of Catholics in the U.S."
Los Angeles Archbishop Jose Gomez, the highest-ranking Latino in the U.S. church, said the role of Latinos "is a big part of the story of the pope's visit."
"He knows the face of the church is changing. He knows the country's Hispanic Catholic heritage. He knows how important Hispanics are for the future of the church," Gomez said.
In Washington, the pope will canonize 18th-century Spaniard and Franciscan missionary Junipero Serra, who evangelized the territory that would become California. Gomez called the canonization a "historic moment in the life of the Hispanic people" in which the pope is calling on Americans to reflect on "our legacy as immigrants."
Elsie Miranda, a theology professor at Barry University, a Catholic school in Miami Shores, said Pope Francis' leadership style is more conducive to the Latino community. "He is the antithesis of the previous pope, who was very legalistic and orthodox," Miranda said. "Being from Argentina and a Latino in general, he understands the Latino reality because he lived it first-hand."
Pope Francis, Miranda said, has also taken on social issues that resonate with people from Latin America such as criticizing the corrupt nature of bottom-line, market-driven economies. Miranda added that several of her friends who had grown disenfranchised by the Catholic Church have started coming back to Sunday Mass.
"One friend had not been to Mass in 30 years," she said. "Her daughter is lesbian. At the time, she was living with another woman and became pregnant in vitro. When the Catholic Church refused to baptize her granddaughter, she became Episcopalian."
Earlier this year, her friend began attending Catholic Mass again. "She likes the responses Pope Francis has given the community," Miranda said. "She believes there is more room for diversity and morality."
Father Claudio Burgaleta, an associate professor at Fordham University's Graduate School of Religion and Religious Education, said Pope Francis' approach is being adopted by local clergy leaders around the world.
"Through his use of metaphor and gestures, Pope Francis is really speaking to the hearts of the people in Latin America," Burgaleta said. "His stance on relevant issues, particularly immigrants – not just those coming to the U.S. but also those fleeing wars in North Africa and the Middle East – strikes a chord with Hispanics."
Rev. Alvaro Huertas, the pastor at Santa Barbara in Hialeah, said he's seen congregation members come to service with a great sense of pride and duty. "It's because of Pope Francis," Huertas said. "He's spreading a universal message that is feeding people's souls. He has taken an innovative, creative approach that moves people."
The AP contributed to this report.