Police officer who saved 5-year-old in 1998 watches her graduate college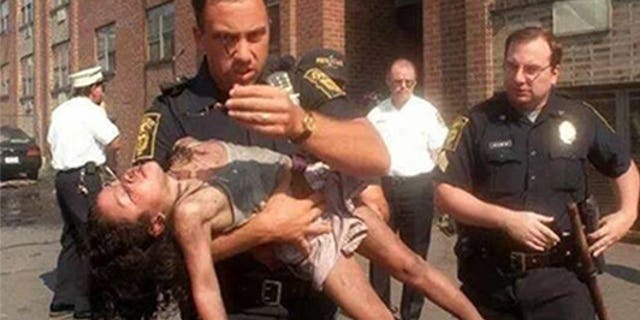 NEWYou can now listen to Fox News articles!
The day Hartford, Connecticut, police officer Peter Getz came to the aid of 5-year-old Josibelk Aponte in 1998 is a day the two of them will likely never forget. Getz, who retired as a police detective but was a patrolman 18 years ago, was called to a fire in an apartment house.
When he arrived on the scene, a fireman placed Aponte's unresponsive body in his arms. Getz rushed to his patrol car, fearing the 10 minute wait for the ambulance might take too long since Aponte had gone into cardiac arrest.
While his partner drove, Getz performed CPR on Aponte in the back seat of the patrol car. By the time they arrived at the hospital, Aponte was breathing on her own.
"I did what I was trained to do, what I had to do," Getz told the Hartford Courant.
Getz became Aponte's guardian angel. Visiting her in the hospital, after her uncle had died in the fire, and bringing her a teddy bear she kept as a reminder through the years.
"I almost died, but I was given a second chance at life," Aponte told the Courant. "And it was because of Peter and all the authorities, everyone who came to help that day."
After a brief period in which the two lost touch after Aponte moved, two years ago Aponte reconnected with Getz through Facebook.
The two told the Courant, that on occasion they get together. They'll talk about family and how her schoolwork is going.
Today, she is 23 years old, and on her graduation day, it was only fitting that Getz would stand by her side as she took home her magna cum laude accounting degree from Eastern Connecticut State University.
"There are only a few moments that are so important in life," Aponte said. "I wanted to share my graduation with everyone who's important to me, who have been there for me, and who helped me through tough times."
"Pretty proud of her, for all the adversity that she has overcome," Getz told the Washington Post,
"Both physically and mentally, having to go through that and losing one of your loved ones, that you were very close to," he said. "That she had stayed the course and that she had come out as a shining star."
Like us on Facebook
Follow us on Twitter & Instagram