Original Gerber Baby meets newest Gerber Baby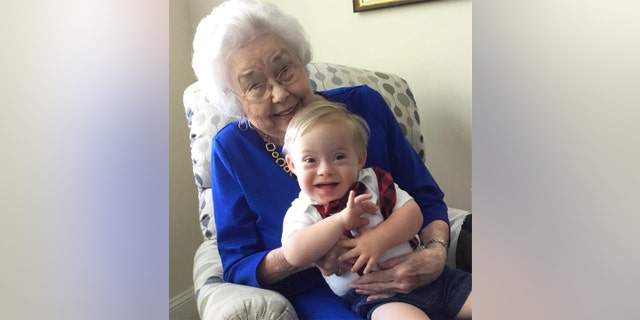 NEWYou can now listen to Fox News articles!
The newest Gerber Baby and the original Gerber Baby just met in real life and posed for an adorable photo that's gone viral.
One-year-old Lucas Warren beat out 140,000 other babies to win the Gerber Baby Photo Search earlier this year, becoming the first child with Down syndrome to be chosen for the title in the contest's 91-year history.
SPIRIT FLIGHT ATTENDANT ENTERTAINS PASSENGERS WITH STAND-UP COMEDY DURING DELAY
When Warren and his family were visiting Florida recently, they decided it was the perfect opportunity to meet the original Gerber Baby, who lives in Tampa, TODAY reports.
91-year-old Ann Turner Cook became the face of Gerber brand products in 1928 after a family friend submitted a charcoal sketch of her to the company for a contest.
Her image became so synonymous with the brand, Gerber trademarked the drawing of Cook in 1931. Her identity, however, wasn't revealed until the company's 50th anniversary in 1978.
When Warren and Cook met, Warren's parents said the pair connected instantly.
"As soon as we walked into the room, (Cook) and Lucas immediately bonded," parents Cortney and Jason told TODAY. "Lucas walked right up to her, flashing his signature smile and waving, and we could tell he loved her right away."
Cook's grandson, Chris Colin, tweeted a photo of the adorable pair posing together.
"My grandmother was the Gerber baby. It was a funny bit of trivia, never made her rich or got us free strained peas or anything. But last week she got to meet the company's newest spokesbaby, named Lucas. Pretty pretttty cute," he wrote.
The tweet had received over 67,000 likes and 8,000 retweets as of Wednesday afternoon.
FOLLOW US ON FACEBOOK FOR MORE FOX LIFESTYLE NEWS
"Ann Turner Cook is truly a wonderful woman and pleasure to be around, and we couldn't be more grateful that she took the time to meet with our family," Warren's parents told TODAY.
For winning the Gerber Baby contest, Warren's family received a $50,000 prize and the little boy's face will be featured on all of the company's social media platforms.