New Species Of Giant Fish Found In Brazil's Amazon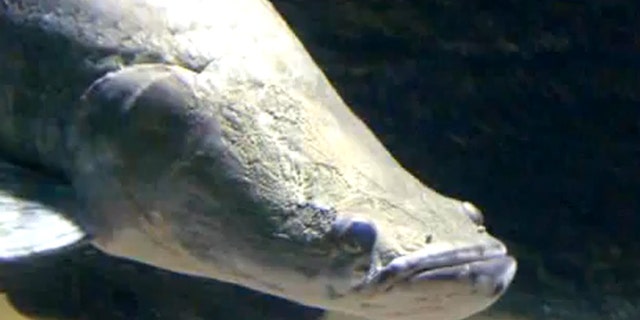 Researchers working in the murky waters of the Amazon River in Brazil have discovered a new species of giant fish.
The arapaima is an air-breathing fish that ranges between six and seven feet in length and is found only in the waters of the Brazilian Amazon. The discovery by scientists from SUNY College of Environmental Science and Forestry marks the first discovery of a new species of arapaima since 1847.
"Everybody for 160 years had been saying there's only one kind of arapaima," Donald Stewart, a professor in the department, said in a statement. "But we know now there are various species, including some not previously recognized. Each of these unstudied giant fishes needs conservation assessment."
In the mid-1800s, it was generally accepted that there were four types of arapaima. But in 1868, Albert Günther, a scientist at the British Museum of Natural History, lumped all arapaima under one category and his views have been widely accepted since.
Examining 19th century literature on the fish and examining preserved specimens of the arapaima, Stewart concluded that all four of the species – and the fifth one – were distinct.
Understanding the differences of the fish, Stewart said, is important in maintaining its health and the ecology of the Amazon in a broader sense. The arapaima is one of the most hunted fish in the region and thus their numbers have been on the decline.
"Abundances of arapaima in large expanses of their natural habitat today are near zero, largely as a consequence of overfishing," said Dr. Leandro Castello, an authority on arapaima in Brazil, told the International Business Times. "The likely impacts of this magnitude of overfishing on species diversity are not good."
A preserved specimen of the newest member of the arapaima family has already made its way to a museum in the Ukraine. While Stewart acknowledged he was unsure how it got there, he said he hopes the publicity the fish is currently receiving will prompt future research and preservation of the arapaima.
"I don't know how it got there; someone must be culturing them and sent them to the Ukraine," Stewart told the National Geographic. "Hopefully it will get more people in Brazil looking more closely at what's swimming around out there."
Follow us on twitter.com/foxnewslatino
Like us at facebook.com/foxnewslatino