Mystery bidder from Argentina buys Hitler's last jacket, other Nazi items for $676,000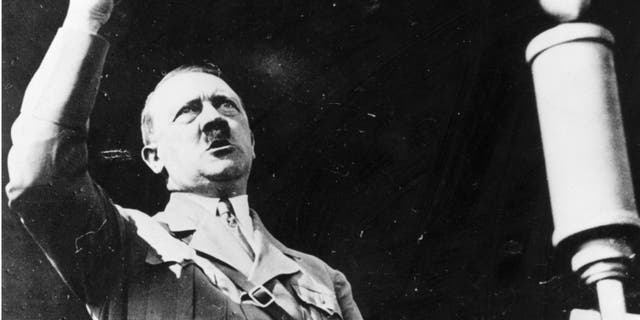 NEWYou can now listen to Fox News articles!
A man from Argentina shelled out more than $676,000 this weekend at an auction selling the personal belongings of Adolf Hitler and his deputy, Hermann Goering.
The man, who remained anonymous, spent $312,000 alone on what is believed to be one of Hitler's last uniform jackets.
According to Reuters, the mystery buyer showed up at the Hermann Historica's auction in Germany dressed in dark clothes and wearing a baseball cap.
Other items auctioned were a pair of Hitler's pants with leather pockets, X-rays after his assassination attempt in 1944, and the brass container from where Goering swallowed cyanide while awaiting trial in Nuremberg.
The Argentinian bidder also paid $47,500 for an aviator watch that belonged to Goering, as well as some if his silk underwear for $3,400.
The controversial auction, titled "Hitler and the Nazi grandees – a look into the abyss of evil," was closed to the press, but the German tabloid Bild sent an undercover reporter to the event, Reuters said.
The collection of 169 items auctioned over the weekend belonged to late John K. Lattimer, a U.S. army doctor who was general medical officer during the Nuremberg trials.
The Argentinian buyer took 56 of the 169 items, for which he paid a total of approximately $676,000.
According to The Guardian, when the Bild reporter asked him who he was, the bidder declined to give his name and only said he came from Argentina.
He used the number "888," Reuters said, evoking the neo-Nazi code "88" that marks the eighth letter of the alphabet and stands for the banned greeting "Heil Hitler."
The Guardian also reported that the Central Council of Jews in Germany filed a motion last week in an attempt to cancel the auction, saying it was "scandalous and disgusting" to make money from Nazi relics.