Musician central to the Chicano civil rights movement dies at 64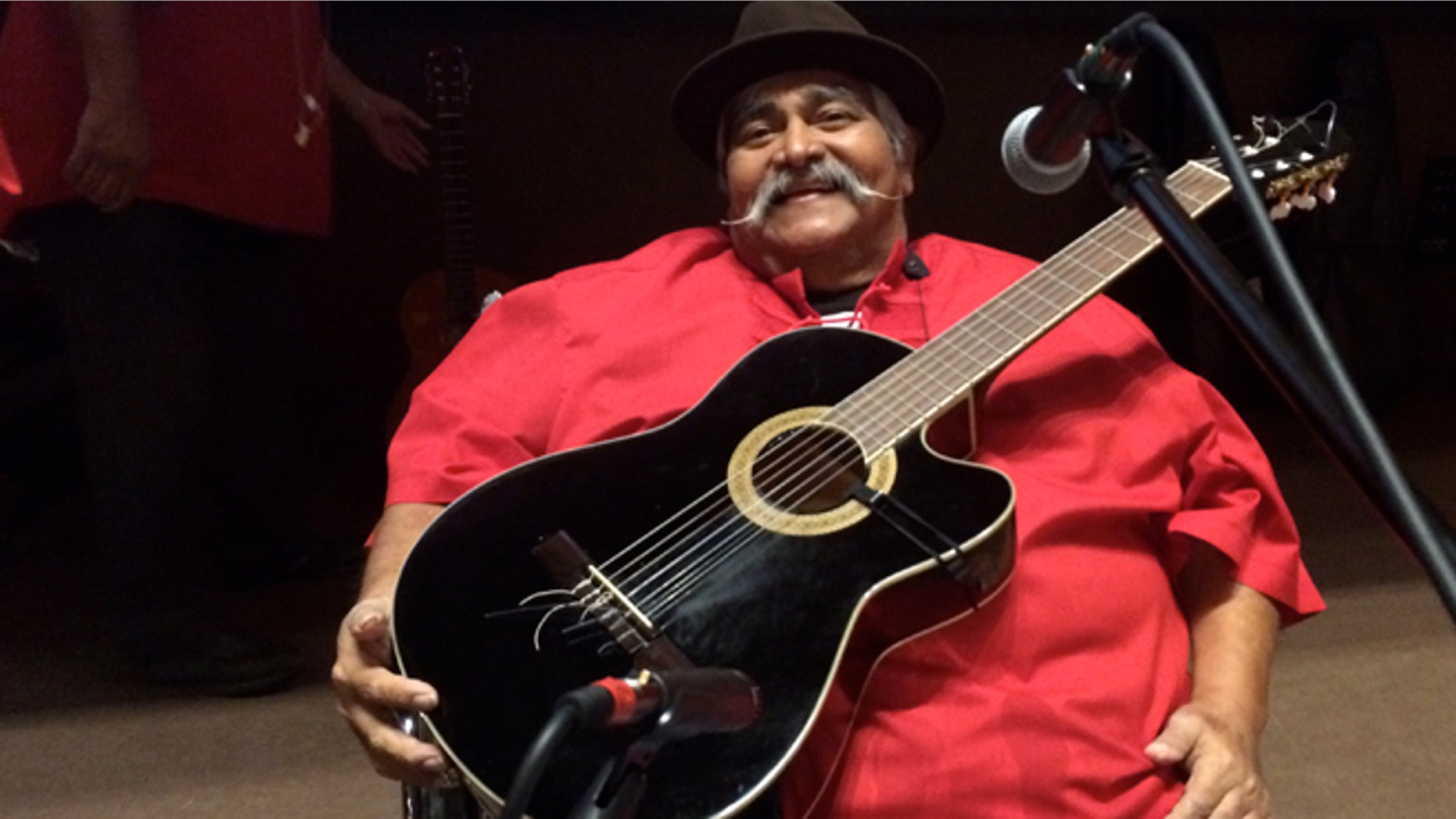 He may not have been a household name, but musician and activist Ramón "Chunky" Sánchez's impact within the Latino community will have a ripple effect for years to come.
Sanchez died Friday. He would have been 65.
Named a National Endowment for the Arts Heritage Fellow in 2013, Sánchez was a fixture in San Diego's Chicano movement.
As a founder of Chicano Park in the Barrio Logan neighborhood of San Diego, his band, Los Alacranes, founded with his brother Ricardo, have been a critical part of the community since 1975.
"He was really important both locally and nationwide," Maria Ibarra, professor and chair in the Chicano Studies program at San Diego State University, told Fox News Latino. "He was fundamental in helping to create Chicano park, which for many Chicanos was a fundamental act in 1970."
"Chicano Park offered a place where Chicanos could represent themselves and their heroes and heroines," Ibarra added. "Chunky made that happen. Additionally, through his music he told the story of those heroes and heroines."
Sánchez was active in demonstrations along with many others from San Diego in the 1970s – from the United Farmer Workers Union, to working with Cesar Chavez, La Raza Unida, and many others.
"Chunky's weapons for the Chicano Movement were his guitar and music. His music was the political cement that kept the Chicano Movement in the community together (for over 45 years) in our struggles for self-determination to end the systemic racism and discrimination against our people," Herman Baca, CCR President wrote in a tribute to Sánchez.
Sánchez was born Oct. 30, 1951, in Blythe, Calif. to farm worker parents. He went to college at San Diego State University as a Mexican American studies major.
"He came from a farm worker family, and the conditions and work was really near and dear to him," Ibarra said. "So, in the 60s and 70s he wrote and played music with UFW and Chunky was very much a part of giving voice to the plight of farmworkers in the U.S."
Paul Espinoa is the producer and director of a feature length documentary film about Sánchez's life. His film, "Singing My Way to Freedom,"covers Sanchez's life in San Diego and involvement with the Chicano movement.
"Chunky's efforts to create Chicano Park becoming a rallying cry for the Chicano community in San Diego," Espinosa told Fox News Latino.
"His work was part of a broader effort of self-determination, that included the park, Barrio Station, and Centro Cultural de la Raza, all which became part of civil rights movement taking off around the country," Espinosa added.
With regard to Sanchez's music, Espinosa said his playing at Cesar Chavez rallies and demonstrations became a larger part of the social movement of the time.
"He was Chavez's favorite and his song "Chicano Park Samba" was a very well-known song associated with the period," Espinosa said.
Sánchez's role in the Chicano civil rights movement will not soon be forgotten.
"Through the arts he connected people to a cause and he worked toward that cause, and for that he is respected in the community as a man of great integrity and dedication to something bigger than himself," Ibarra said.