LA NOTA LOCA: Pope John Paul II's Blood Stolen From Church In Italy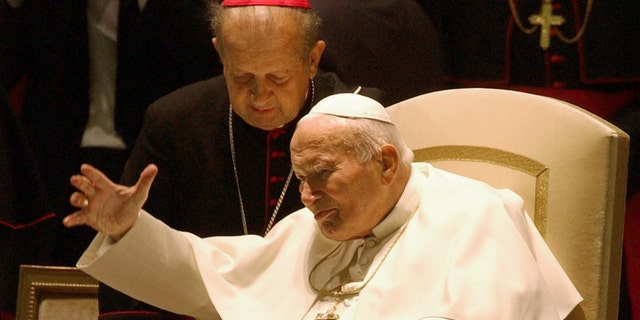 We all know blood is thicker than water, but is it also thicker than holy water? A thief or thieves certainly seem to think so, having desecrated a church in Italy's Abruzzo region in order to steal an unusual reliquary.
Franca Corrieri – a custodian at San Pietro della Ienca, a church in the small city of L'Aquila, about 60 miles east of Rome – found a broken window at the church, which she reported to the police, according to the Guardian of London.
"In a sense, a person has been stolen."
The only items missing were a crucifix and a gold and glass reliquary – a container in which sacred objects, often the bones of saints, are kept.
But the reliquary that was stolen wasn't full of dusty bones or hair — it contained a thick, red liquid. Specifically, the blood of John Paul II, who died in 2005.
The Polish-born pope liked to spend time in the area, hiking or skiing. After his death, his private secretary, Cardinal Stanislaw Dziwisz, gave the community some of the late pontiff's blood as a token of his affection. (Apparently, the Vatican kept some of the pope's blood after the 1981 assassination attempt in St. Peter's Square that nearly killed him.)
The Italian Catholic magazine Famiglia Cristiana described the crime as "a sacrilegious theft that was probably commissioned by someone." Dozens of Italian police officers using canine units tried to track the thieves, according to Reuters.
Corrieri said that the crime felt less like a theft and more like a kidnapping. "In a sense, a person has been stolen," she told reporters.
So far, there has been no ransom demand. John Paul II is expected to be declared a Roman Catholic saint later this year, which is likely to increase the value of the stolen reliquary.
Follow us on twitter.com/foxnewslatino
Like us at facebook.com/foxnewslatino