Daughter of officer who captured Che Guevara becomes Bolivia's first female general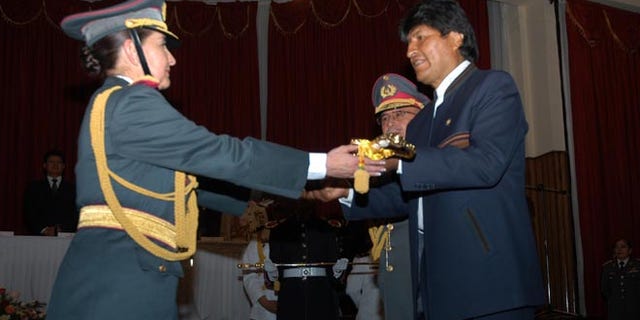 NEWYou can now listen to Fox News articles!
Following in her father's history-making footsteps, the daughter of the man who led the Bolivian army unit that captured famed Argentinian revolutionary Ernesto "Che" Guevara has been named the first female general in the history of the South American nation.
Gina Reque Terán, 53, was officially promoted to general by President Evo Morales in a ceremony at the main army barracks in the capital La Paz, local media reported.
"Becoming a general was my purpose in entering the military," she said, according to La Razón. "I wanted to reach the top position within the institution and today I am being crowned."
The married mother of two was given the position on International Women's Day, which also saw two other women named generals on the national police force, another first for Bolivia.
"I believe that all women must continue to work and dedicate ourselves to the profession 100 percent," she said.
Reque Terán is the daughter of retired general Luis Reque Terán, who led the Bolivian army's operations at Quebrada del Yuro against Guevara's rebel forces in 1967.
Guevara, a doctor who became internationally known as a member of Fidel Castro's rebel force that overthrew Fulgencio Batista in 1959 and later as one of the communist leader's top advisors, was sent to Bolivia to foment a revolution in the Andean nation following a failed revolutionary attempt in the African country of Angola.
Guevara's last battle with Reque Terán and the Bolivian troops occurred in a remote region in central Bolivia, south of the city of Santa Cruz. Bolivian troops, backed by the United States' Central Intelligence Agency, eventually captured the revolutionary and executed him several days later.
Like us on Facebook
Follow us on Twitter & Instagram