Camels Bring Tourists to Mexico's Sonoran Desert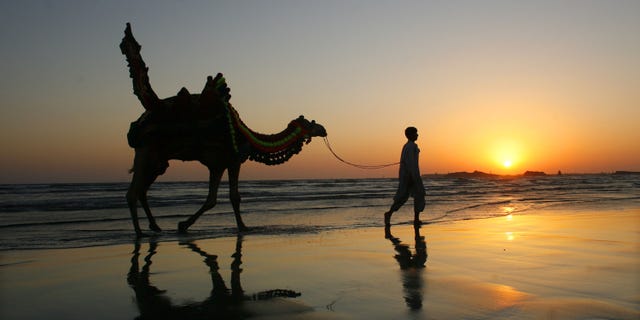 No, it isn't a mirage – those tourists are riding camels through the desert near the popular vacation destination, Cabo San Lucas, on Mexico's Baja California peninsula.
The tropical paradise sandwiched between the Pacific Ocean and the Sea of Cortez provides the perfect setting for a diverse range of activities that includes everything from snorkeling, surfing and whale watching to exploring local culture and partying, but tour company Cabo Adventures has added camel rides to the list of possibilities.
Mexico is Out to Set the Record on Breaking World Records
Sidi Amar, who was recently interviewed by Kilmeny Duchardt of Reuters, is a member of the nomadic Tuareg people of Niger in North Africa and he cares for eight dromedary camels used for tourist excursions at a ranch located along the Cabo coastline.
As he explains, the camels are well-suited to living in the region.
"Sonora Desert and the Sahara Desert are at the same latitude," says Amar. "The weather is same. The flora, the fauna, is the same as in Sahara Desert, so it's perfect weather for them."
A couple gazes at the distant horizon, a yellow and orange sunset glowing, while they sit atop a camel on a pristine beach in a photo on the Cabo Adventures website. A photo on another website advertising the same tour shows a caravan of camels saddled with tourists, two per animal, one person on either side of the singular hump.
Fashion Scene Booms in Hipster Tijuana
The "Outback & Camel Safari" package deal, which costs $99 for adults and $70 for children, describes a day that involves a ride in an off-road vehicle, a guided tour, hand-made tortillas, beans and salsas, sampling Tequila, and of course, a camel ride on the beach.
It sounds like a fun experience and one that I'd be willing to try – but given that a tourist interviewed describes riding a camel as "almost like being on sea," skipping the Tequila might be a good idea if one wants to avoid becoming camel-sick.
Tracy López is a bilingual writer living outside the Washington DC metro area. She is the founder of Latinaish.com.
Follow us on twitter.com/foxnewslatino
Like us at facebook.com/foxnewslatino