X-ray of mom's abdomen reveals IUD that 'fell out' a decade earlier: report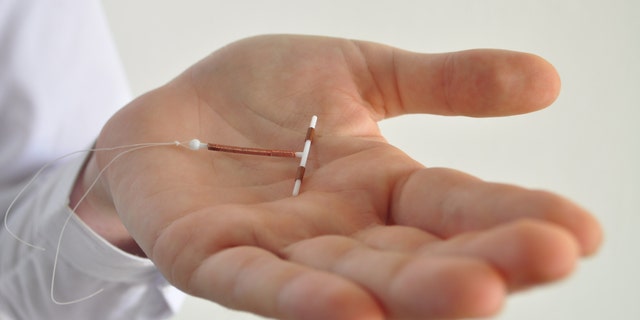 An Ohio mother who went in for an X-ray after injuring her back was shocked to discover that the scan picked up an intrauterine birth control device (IUD) floating in her abdomen that her doctor allegedly claimed had fallen out over a decade earlier. Melinda Nichols, who had opted for an IUD in 2007 after giving birth to her youngest child, told The New York Post that when she went for a follow-up appointment after it had been implanted, her doctor couldn't find it.
"It fell out," Nichols, now 40, claims the doctor told her.
LA TEEN LEFT WITH PAINFUL BLISTERS, BURNS IN SEVERE REACTION TO MEDICATION
When she allegedly questioned whether she would have seen it fall out, she claims the doctor assured her that sometimes it happens without patients noticing.
IUDs are a T-shaped device that a health care provider places inside a woman's uterus and remains a popular birth control option for patients in the U.S. A potential complication for patients choosing an IUD is expulsion when the device moves from its intended position at the top of the uterus. According to the Comprehensive Women's Health Center, this occurs in 2-3 percent of women using an IUD and may cause cramping.
Perforation is another rare complication, in which the IUD pushes through or into the muscle of the uterus and occurs in 1-2 per 1,000 insertions. In a small percentage of cases, the device may pass through the uterine wall and migrate to the pelvis, abdominal cavity, gastrointestinal tract and bladder, requiring surgical removal.
But Nichols claims her doctor had convinced her that it simply fell out, and rather than opt for a second IUD, Nichols underwent a tubal ligation, commonly referred to as getting your tubes tied. According to Johns Hopkins Medicine, the procedure is a permanent birth control that blocks or cuts the fallopian tubes. Women who undergo the procedure will still experience periods, but it prevents the egg from traveling from the fallopian tube to the uterus.
ANTI-VAXXER REVOLT GROWS ON REDDIT AMONG TEENS
Nichols told the Post that over the next decade she had intermittent pain in her side, but never anything serious enough to require a trip to the doctor.
But in November, she had another X-ray for her injury and made the shocking discovery that the device was floating in her abdominal cavity.
"I had no clue," she told The Post. "It was in me for almost 11 years."
She said she hopes her shocking discovery resonates with women and helps them push their doctors for answers.
CLICK HERE TO GET THE FOX NEWS APP
"Make sure that if you have something like this that you check it out," she told The Post. "If they say it fell out, you make sure they know it fell out."
Nichols posted the photo of her X-ray on Facebook, where it was shared an additional 51,000 times and received over 4,400 reactions.