Viral photo shows fisherman's face punctured by spear after freak accident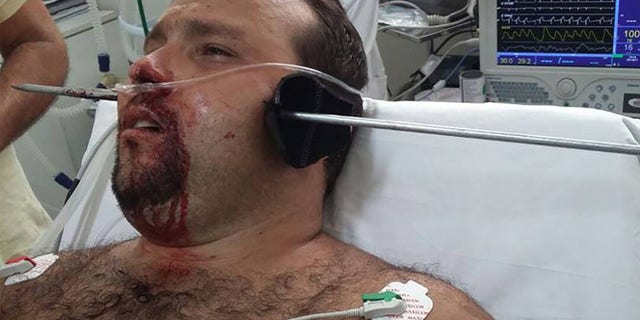 A fisherman is lucky to be alive after he was shot in the head with a harpoon during a fishing trip in Brazil.
The 27-year-old man — identified in local television reports as Hugo Periera da Silva — was on a fishing trip with a friend at the Rio Paranaiba dam in Araguari when the 3-foot spear pierced his face on Tuesday, according to officials, Diaro de Pernambuco reported.
"Unfortunately, they were not careful with the positioning, the distance," Araguari fire department Deputy Lt. Lucenildo Batista Alves told the site. "And the waters of the river in our region are murky, especially in the very dirty rainy season."
The metal shaft — which was just inches away from causing more serious injuries or even death — was removed and the man was released from a hospital Wednesday.
Alves said it was not immediately clear exactly how the man was struck, or whether his friend — who was fishing on the opposite side of the dam — had fired the spear. Authorities are investigating the fishing trip, since it's illegal to use harpoons from November through February.
Click for more, and the image (WARNING: GRAPHIC), from the Post.