Construction worker impaled by metal bar through chest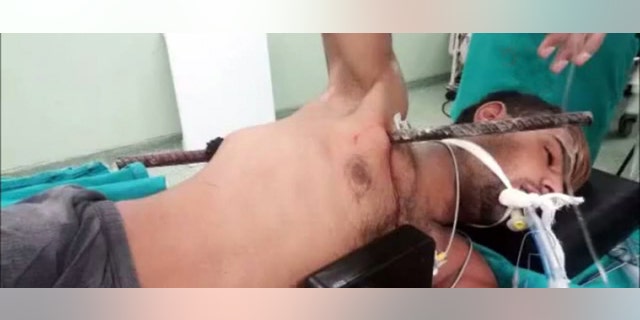 NEWYou can now listen to Fox News articles!
A construction worker is on his way to recovery after he was impaled by a metal bar through his chest and back. Adem Ozcoban, 19, was working on a site in Gaziantep, Turkey, when he felt dizzy and fell, Central European News (CEN) reported.
Ozcoban fell from the first floor to the ground and on to the metal bar, which struck him in the chest.
His colleagues called an ambulance, and he was rushed to the University Training and Research Hospital, where doctors stabilized him and determined the bar did not puncture his heart, CEN reported.
"After the first intervention in the emergency department, we took him immediately into sugery," hospital faculty member Dean Levent Elbeyli, told CEN. "The metal bar was successfully removed in the surgery conducted by a team lead by prof. Dr. Maruf Sanli."
"The damaged (sic) caused by the metal bar in the chest and lungs of our patient was repaired. As of today, the patient's state is stable. If he wasn't brought to such an equipped hospital, his state might have got worse."
Doctors expect him to be discharged after several days and cautioned others to be more careful while at work.