US health officials create color-coded Zika zones in Florida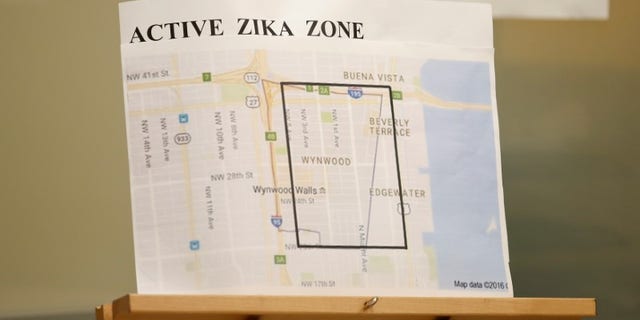 CHICAGO – U.S. health officials introduced a new color-coding system on Tuesday for Florida's Miami-Dade County to distinguish between areas of active transmission that present a significant risk of transmission and areas where there is a possible risk of being infected.
The new system, announced by the U.S. Centers for Disease Control, casts all of Miami-Dade County as a yellow cautionary area with the exception of Miami Beach and a one square mile area of Miami known as the Little River neighborhood, which are high-risk red zones.
Miami is a major tourist destination.
Previously, the CDC had warned pregnant women to consider avoiding non-essential travel to Miami-Dade County to reduce their risk infection with Zika, a mosquito-borne virus that has been linked with severe birth defects.
"Zika continues to pose a threat to pregnant women living in or traveling to Miami-Dade County," said Dr. Lyle Petersen, director of CDC's Division of Vector-Borne Diseases.
"Our guidance today strengthens our travel advice and testing recommendations for pregnant women to further prevent the spread of the infection among those most vulnerable."
Based on the new guidelines, the CDC said it recommends pregnant women consider postponing travel to yellow areas of Miami-Dade County, and they should specifically avoid red areas because they pose "a significant risk to pregnant women."
A map of the Zika warning areas can be found at http://www.cdc.gov/zika/intheus/florida-maps.html.
The CDC urged pregnant women who have lived in, traveled to, or had unprotected sex with someone who lived in or traveled to Miami-Dade County since August 1, 2016, to be tested for Zika.
Some infectious disease experts have criticized the piecemeal approach to warning women about the risk of Zika in Florida, a state with a multibillion dollar tourism industry.