Texas twins delivered 2 weeks apart under different presidents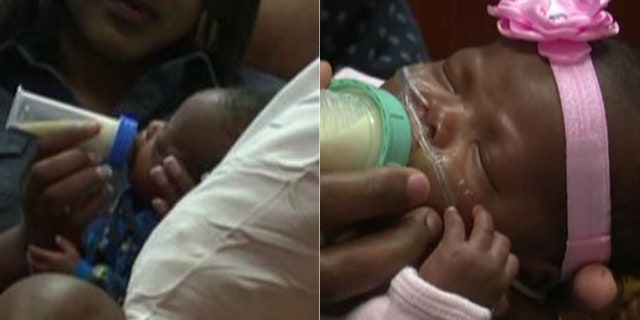 A set of Texas twins born two weeks apart and under two different presidential administrations are on track to head home ahead of their original May 5 due date. Amara Woolridge was born in January at 24 weeks gestation weighing 1 pound 3 ounces, two weeks ahead of her brother Arthur Woolridge III, Fox 2 Detroit reported.
The twins' mother, Latroya Woolridge, said everything was normal for her during the first few months of pregnancy, but then she started to feel pain.
DAD INSPIRED TO RUN BOSTON MARATHON AFTER UNBORN DAUGHTER'S DOWN SYNDROME DIAGNOSIS
Wooldridge called her husband, Arthur Woolridge II, and drove herself to the hospital during a storm, ABC 7 reported.
"For a dad and a husband, it was terrible -- to be on the phone with her while your wife is in labor," he told the news outlet.
Woolridge made it to Memorial Hermann The Woodlands Hospital in time to deliver Amara, but the delivery proved challenging.
"Twenty-four weeks (sic) delivery is more than four months early, and it's really right on the borderline at where babies will survive," Dr. David Weisoly, a neonatologist and medical director for the Neonatal Intensive Care Unit at Memorial Hermann The Woodlands, told ABC 7.
The doctors were able to delay Arthur's delivery for two more weeks.
NEW MOM DIED FOLLOWING SEVERE PANIC ATTACK 5 WEEKS AFTER GIVING BIRTH, INQUEST REVEALS
"Initially the theory was that she was the feisty one and she said. 'I'm out of here,'" Woolridge told the news outlet. "Now I think it's more that he said, 'Get out!'"
In the months since the twins have been hospitalized, they continue to gain weight and hit growth milestones. As they prepare to head home, their mother said she can envision her daughter teasing her brother about getting her license two weeks ahead of him.
"These babies have done extremely well in a very difficult circumstance," Weisoly told ABC 7.