Parents of UK toddler on life support apply to appeal court's latest ruling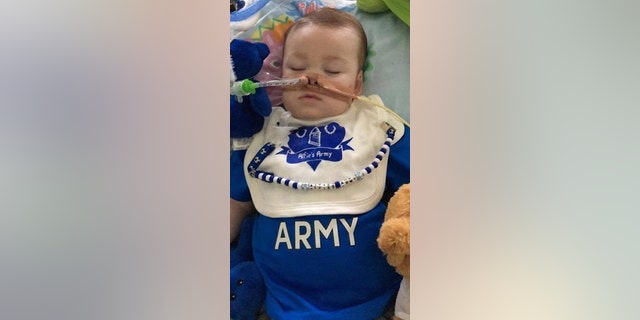 The parents of a 23-month-old boy in the U.K. have applied to take their case back to the supreme court after a judge denied their request for permission to transfer their son to a hospital in Rome. Tom Evans and his partner, Kate James, argue that their son Alfie has shown improvements in his health, and would benefit from treatment offered abroad.
But on Monday, Britain's Court of Appeal ruled against the parents, upholding a lower court's conclusion that flying the child to a hospital in Rome would be wrong and pointless. Alfie, of Liverpool, has been on life support at Alder Hey Children's Hospital since Dec. 2016. Doctors have been unable to identify the degenerative neurological condition he is suffering from, with his health status described as being in a "semi-vegetative state." Lower courts have previously ordered that his life support be withdrawn.
MAN LEFT FACELESS FOR 2 MONTHS UNDERGOES SECOND TRANSPLANT AFTER FIRST DETERIORATES
Following the latest ruling, protesters gathered outside the facility to chant "Save Alfie Evans," prompting the couple to respond on their Facebook support page, "Aflies Army Official."
"Can I ask that after tonight I would really appreciate if everyone has a break from the protesting please," Tom Evans wrote. "Me and Kate are so so so grateful for all your time you have put into it and support we can not thank you enough. I will update you on where we go from here and if we get permission then that would be a good reason to demonstrate peacefully."
A representative from the supreme court said Tuesday that the application would be referred to the president of the supreme court and two other members, The Guardian reported.