Obama & Rousseff discuss spread of Zika as Brazilian leader vows to win war against virus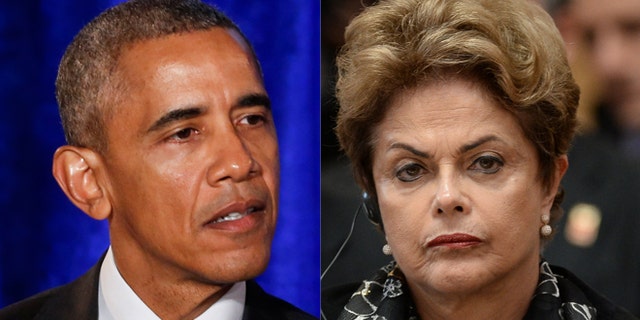 The White House says President Barack Obama and Brazilian President Dilma Rouseff have discussed their concerns about the spread of the Zika virus.
In a telephone conversation Friday, the leaders agreed on the importance of working together to spearhead research and speed development of vaccines and other technologies to control the mosquito-borne virus. They also agreed to prioritize building national, regional and global networks to fight the threat from infectious diseases more broadly.
The Zika virus is spreading rapidly after it was detected last year in Brazil. Investigators are working to figure out whether it's related to seeming increases in the birth defect known as microcephaly or to Guillain-Barre, which can cause temporary paralysis.
In the United States, the head of its infectious disease institute says the U.S. is preparing should the virus spread there.
So far there have been no transmissions of the disease within the United States.
Rousseff said an operation in Brazil to eliminate breeding areas for the Aedes aegypti mosquito has begun at all installations run by the armed forces and at all federal educational, health and other facilities.
She called on the rest of society to join in eliminating areas of standing water, which can include things as small as a discarded food container.
"The government, churches, football teams, labor unions ... everyone must do their part to eliminate the breeding grounds," she said. "We will win this war."
Rousseff announced the offensive against the mosquito following a videoconference with five Brazilian state governors and six Cabinet members. Brazilian researchers have linked Zika to a seemingly sudden upsurge in cases of microcephaly, in which children are born with abnormally small heads.
Afterward, Health Minister Marcelo Castro echoed her words, telling reporters "the mosquito is not stronger than the entire country. We will win this war."
Castro said, "We have asked the people to clean their homes and now the government is cleaning its home," referring to the federal operation.
Brazil has won the war against the mosquito before. Following major eradication efforts, it was declared free of the mosquito in 1958. But the effort faded and the insect returned from neighboring countries.
Based on reporting by The Associated Press.