Northeast hospitals carry on in storm's wake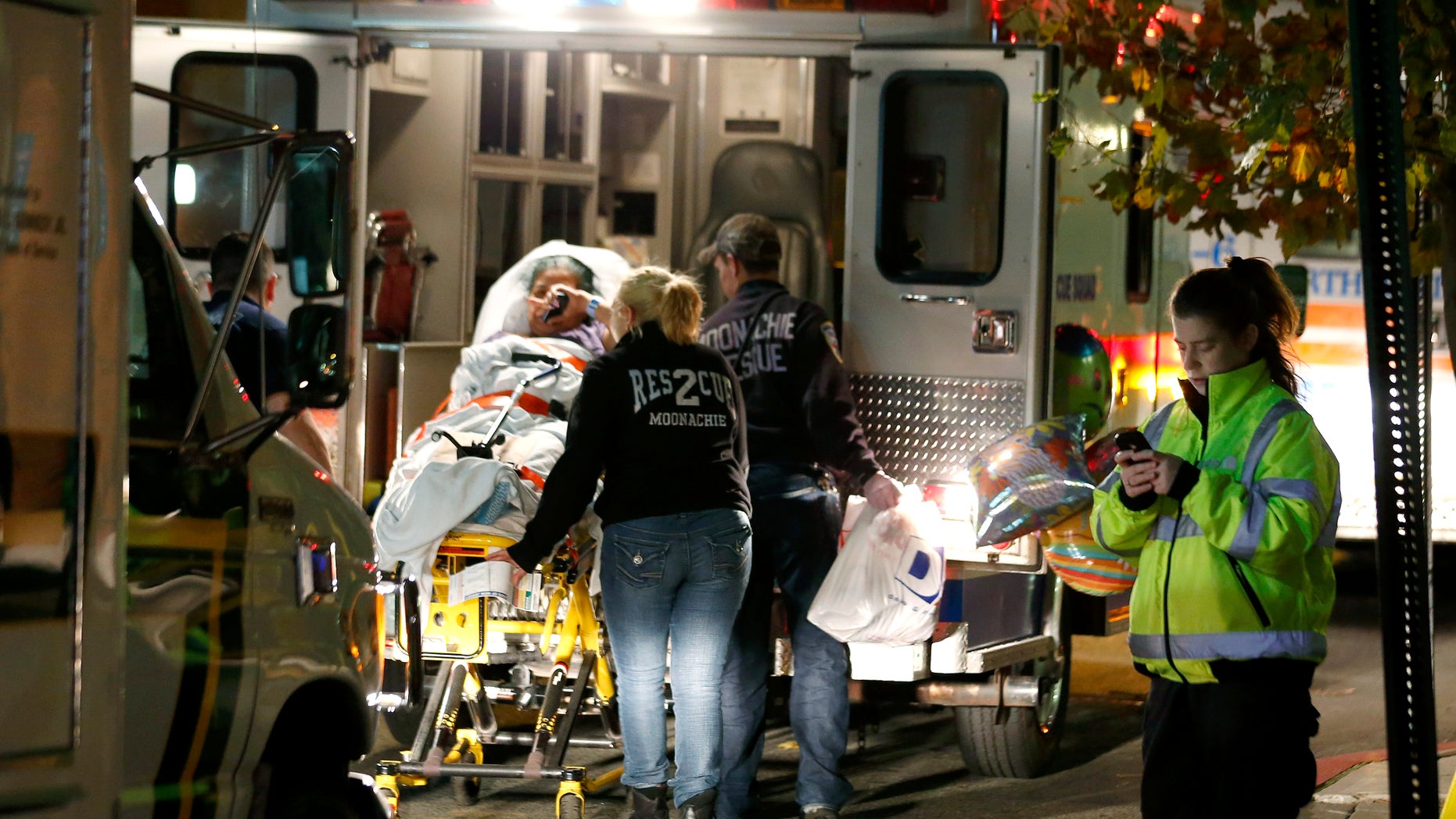 Hospitals around the New York City area have been struggling with power outages in the aftermath of Hurricane Sandy, with several evacuating completely and dozens relying on backup power sources to keep up curtailed operations.
Some of the most dramatic scenes came when most of the backup power failed at NYU Langone Medical Center on Manhattan's East Side, which had to transfer 300 patients, including prematurely born babies and adults and children in intensive care.
The whole transfer stretched over 12 hours, with a constant stream of ambulances taking one patient at a time to several other area hospitals. The transfers were completed by 11 a.m. Tuesday, according to the medical center.
A pediatrician resident at NYU Langone, Jon Farkas, described initial chaos after the hospital went dark, then a flurry of action. He said staff used battery-powered respirators or manually pumped bags to keep the babies breathing after the backup power failed. Twenty babies in the neonatal intensive-care unit were transported first, he said.
"Everybody had flashlights, and the stairways were lit up. Once we realized that the power went out, we found beds for everyone within an hour," he said. "All the patients were fine."
Charles Rosenbaum, whose wife Kimberly Landman had given birth on Sunday morning, said lights remained on and the couple could charge their phones in their 13th-floor room after the hospital lost power around 7 p.m. Monday and generators kicked in. But after a generator went out early Tuesday, the floor "was dark. It felt like we were camping," and nurses handed out glow sticks for light, Mr. Rosenbaum said. The couple and their newborn daughter left the hospital later Tuesday morning.
Lisa Greiner, an NYU Langone spokeswoman, said the hospital had reduced its patient load over the past few days in anticipation of the storm. She said the flooding in the basement, where some of the generators are kept, went as high as eight feet at one point. It was unclear how many generators the hospital has and what caused them to malfunction.
"We're right now in the middle of accessing what happened to the generators," she said. "We have generators not only in the basement but above, on the roof."
Kenneth Langone, chairman of the NYU Langone Medical Center's board, had been at the hospital since Sunday for treatment of pneumonia. From his 11th-floor room early Tuesday, he watched water from the East River surge over FDR Drive and into the medical center. Mr. Langone said senior hospital officials, such as the hospital's chief and the head of nursing, plotted which hospitals would get which patients from an impromptu command center set up at a table in the main lobby. Meantime, nurses helped patients get down from high floors by using bobsled-like sleds that wound down stairways.
"It was one of the most moving experiences of my life," Mr. Langone said. He was discharged from the hospital about 5:30 a.m. Tuesday.
Mr. Langone said the hospital "frequently" tested its generators and they had passed the tests. Mr. Langone said the hospital didn't anticipate such a strong storm surge. "We anticipated 12-foot surges, which we knew we could handle. We got 14-foot surges," he said. As part of its $3.2 billion modernization currently in the works, the medical center is planning on buying new generators and locating them in better locations than the basement, where some were.
Other New York Area hospitals also experienced complications. Coney Island Hospital closed because of flooding and a loss of power, and was transferring about 200 affected patients Tuesday, according to a spokeswoman for the New York City Health and Hospitals Corp. The hospital is running on emergency power.
Bellevue Hospital Center, also operated by the corporation, transferred some patients within its facility, which is running on backup generators, the spokeswoman said.
In New Jersey, Hoboken University Medical Center evacuated 130 patients Sunday night before the storm hit, said a spokeswoman for the New Jersey Hospital Association. Palisades Medical Center in North Bergen, N.J., evacuated its patients Tuesday morning because water damaged its generator, she said. Around 30 of New Jersey's 72 acute-care hospitals are operating on generator power and remain open but may not be offering certain nonemergency service, the association said.
University Medical Center of Princeton in Plainsboro, N.J., lost backup power briefly during the height of the storm Monday night, a spokesman said.
After losing power Monday, "the hospital immediately switched to generator power until the generators were disrupted at 7:04 p.m. Power was restored within 40 minutes, and the generators remained online until PSE&G restored full power to the hospital at 5:52 a.m. [Tuesday]," he said in a statement.
North Shore-Long Island Jewish Health System, one of the largest in metropolitan New York with 16 hospitals and 300 ambulatory centers, experienced power outages at several of its hospitals. Backup generators were working, but a data center that handles electronic patient records for Staten Island University Hospital lost service and forced staff to use paper records, according to the system.
Eastern Long Island Hospital in Greenport, N.Y., evacuated 26 patients on Monday due to flooding, a hospital spokesman said, and North Shore-LIJ's ambulances assisted in transporting patients to Stony Brook University Hospital and Peconic Bay Medical Center in Peconic.
Michael Dowling, chief executive of North Shore-LIJ, said it had been preparing for Sandy since Friday. Over the weekend it preemptively transferred about 130 patients who were relying on ventilators at hospitals on Staten Island and on Long Island to other hospitals within its system, because executives thought those locations were at high risk of flooding or losing power.
"Why hang around and assume things won't go wrong. Assume things go wrong," Mr. Dowling said.