'Miracle baby' born on cruise ship in the Caribbean returns to Utah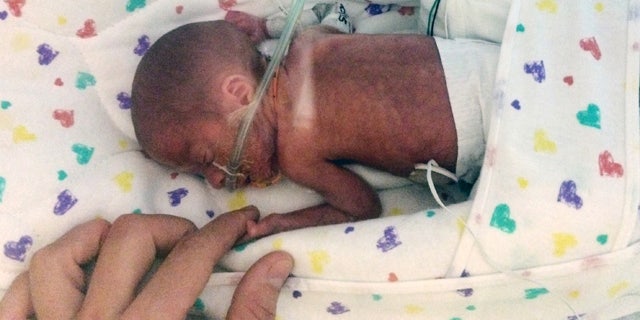 The baby born 15 weeks premature on a cruise ship in the middle of the Caribbean has finally returned to Utah, after spending 78 days at Miami Children's Hospital where he defied the odds for survival.
Fox 13 Now reported that 4-and-a-half-pound Haiden Morgan reunited with his family Saturday at the Ogden Airport. When Haiden was born during a seven-day Royal Caribbean cruise in late August, doctors told his mother, 28-year-old Emily Morgan, that she had miscarried. But 45 minutes later, they revised their prognosis and clarified the baby boy had survived but likely wouldn't live for long.
The captain of the cruise ship sped to the port nearest to a hospital in Puerto Rico— 14 hours away— whereby two ambulances rushed the family to the hospital. A few days later, they were transferred to Miami Children's Hospital.
Emily told fox13now.com that she "never had a doubt" that her son would survive.
"It's just been a fighting chance every day," she told the news station.
Upon landing safely in Ogden, Haiden reunited with his whole family, including his older sister, Chloe, and his father, Chase.
Haiden will now rest at the McKay Dee Hospital in Utah?, until doctors determine that he is strong enough to return home with his family. The Morgans are hopeful he'll be able to leave the hospital by Christmas.
"He is actually coming home," Chase told fox13now.com. "It is a very surreal feeling."