Maid of honor carries sister's ill dog down aisle at wedding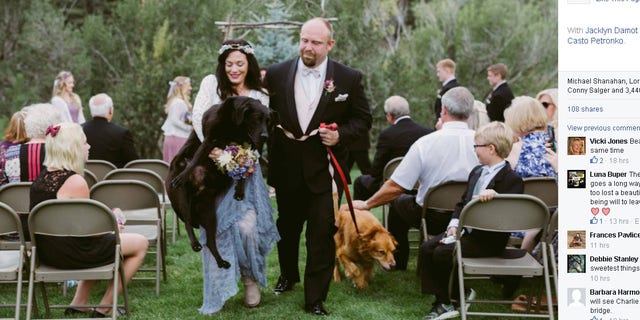 NEWYou can now listen to Fox News articles!
Although he couldn't stand up, Charlie, a 15-year-old black lab mix, played an integral part in the wedding of his owner a few days before his death.
Kelly O'Connell, 33, a veterinarian, adopted Charlie Bear when he was 12 weeks old, after he was found abandoned in a shopping cart and taken to an animal shelter, The Knot reported. Five months before the Sept. 3 wedding, Charlie was diagnosed with a brain tumor, People reported. In the week before the wedding, Charlie had five seizures and O'Connell and her fiance, James Garvin, considered putting him down, but he seemed to be getting better, so they waited.
"And it was worth it to see the happiness on his face that day. He wanted to be there, and I'm glad he was," O'Connell told People.
Charlie was able to walk down the aisle for the Estes Park, Colorado, wedding, but then couldn't get up and walk after the ceremony ended. O'Connell's sister and maid of honor, Katie Lloyd, picked up the 80-pound dog and carried him instead.
"This is one of the most tightly knit, animal-loving families I've ever met," Boulder-based photographer Jen Dziuvenis told The Knot. "I would expect nothing less of Katie than to scoop up her sister's dog and carry him up the aisle if he wasn't able to make it himself."
Dziuvenis's photos of the ceremony have gone viral ,and the moment hit home for her because she lost her own black lab a few months ago, The Knot reported.
"I had to just keep shooting while trying not to drown my camera in tears," she told The Knot. "I'm so grateful that I was able to capture these photos for them and that I was able to do this moment justice."
On Sept. 9, Charlie was put to sleep at home in front of the fireplace.
"I'll miss Charlie. He was my best friend. But he'll never be forgotten," O'Connell told People. "And we'll always have the wedding photos to remember him by."
O'Connell and Garvin— who is also a veterinarian— now have four dogs.