Lung recipient meets donor's family year after transplant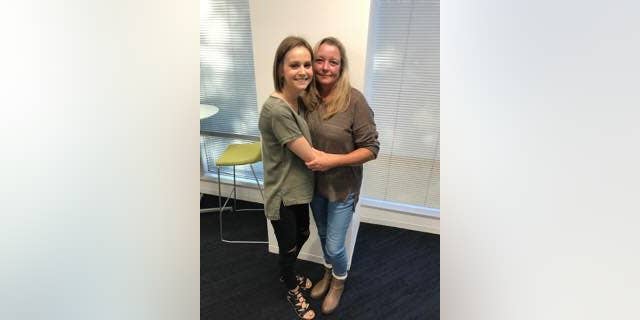 NEWYou can now listen to Fox News articles!
A Virginia family grieving the loss of their 20-year-old daughter who was killed in a car accident last year met the woman who received her lungs. Jackie Price, 25, reached out to Ray and Angela Justice with a letter thanking them for the gift of life.
"Her lungs continue to breathe, for me," Price, who has cystic fibrosis, wrote. "Every day I have here is because of Samantha."
At Sunday's meeting, Price brought a stethoscope so that the Justice family could listen to their daughter's lungs, NBC4 Washington reported.
TODDLER HOSPITALIZED AFTER INGESTING MARIJUANA
"That's my baby in there. I felt my daughter – something I haven't been able to feel," Angela Justice said, according to the news outlet.
Justice was killed on June 20, 2016, when her car was struck by a truck on the Capital Beltway, NBC4 Washington reported. Angela Justice said she prayed a young woman would receive her daughter's heart and lungs.
"I don't really know how to put into words how appreciative I am," Price told NBC4 Washington.
DOCTOR SUSPENDED AFTER 4 PATIENTS TEST POSITIVE FOR HEPATITIS C
In a photo posted to their Facebook page, Angela and Ray said Price reminds them a lot of their daughter.
"Jackie and her family will always be a part of our family," the Sept. 10 post read. "I felt a strong connection with her as soon as I saw and hugged her. Please keep Jackie and her family in your prayers, that she will continue to improve and live the life that she truly deserves."