Large amounts of antibiotics in Chilean salmon causing health concerns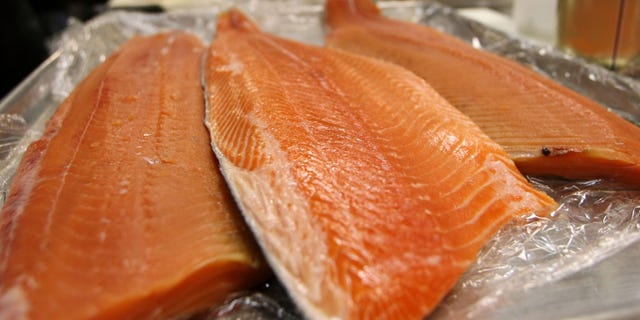 Some major U.S. retailers are scaling back or dropping their imports of Chilean salmon over concerns about farmers from the South American country using record amounts of antibiotics on the fish, according to Reuters.
The Costco Wholesale Corp has decided to slash its Chilean salmon imports by more than half – from 90 percent to 40 percent.
Costco, which has purchased about 600,000 lbs. of salmon per week -- 90 percent from Chile, the world's second-largest producer of the fish – is stepping up its salmon imports from Norway.
Chilean salmon farmers have been increasing the use of antibiotics on the fish because they are infected with a large amount of bacteria known as Piscirickettsiosis or SRS, which cause lesions in the product and swells their kidneys and spleens, eventually killing them.
The soaring presence of antibiotics in Chile's salmon comes at a time when those in the food industry report a higher public concern about foreign substances that are injected into the products they consume.
"The whole industry is starting to shift," said Jeff Lyons, who oversees fresh foods at Costco, to Reuters. "If I was to ask you your biggest concern on produce, you might say pesticides. When we ask people in protein, generally it's going to be hormones or antibiotics."
Many other chains, such as Whole Foods and Trader Joe's, have dropped their Chilean imports of the fish for a more sound option such as wild-caught, antibiotic-free salmon.
Chilean farmers claim there is no vaccine available for the treatment of these bacteria found in the fish and, as a result, have had no choice but to increase the antibiotic use. Chile insists its salmon is safe and say the U.S. Food and Drug Administration has approved the antibiotics being used.
This is not the first time Chile has had an issue with its salmon. In 2007 its salmon farming industry was decimated when a deadly virus killed half of the country's salmon stock.
The Oceana Organization, tasked with protecting the world's oceans, reports that 50 Chilean salmon companies have refused to disclose the amount and type of antibiotics they are using.
Chile's fish farming industry in 2014, according to the Consumerist, produced around 895,000 tons of fish and, used 1.2 million lbs. of antibiotics on them. By comparison, Norway produced 1.3 million tons of fish in 2013,and used just 2,142 lbs. of antibiotics. (According to Reuters the figures for 2014 have not been made available yet)
Some experts believe that Costco's move to scale back imports from Chile could hurt the South American market's reputation and push other big retailers to follow.
Like us on Facebook
Follow us on Twitter & Instagram