Judge deciding if stores must post tobacco apology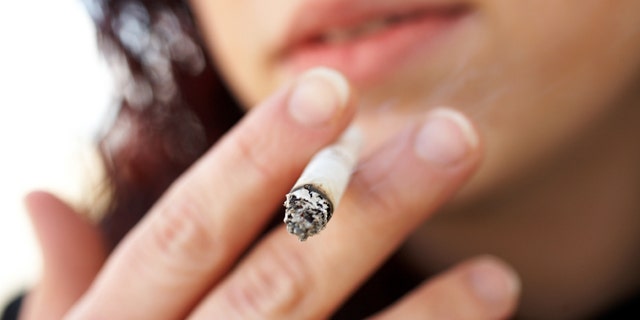 RICHMOND, Va. – A federal judge will soon decide whether your next tank of gas or bottle of soda comes with a free apology from the Marlboro man and Joe Camel.
A recent ruling ordering a multimedia blitz stating that the nation's largest tobacco companies lied about the dangers of smoking left open the possibility that retailers could be required to post large displays with the mea culpas.
Retail trade groups are upset about the possibility the displays would commandeer their most valuable selling space and imply their own guilt-by-association.
As part of a case the government brought in 1999, U.S. District Judge Gladys Kessler last month ordered the tobacco companies to pay for corrective statements on cigarette packs, in print and on TV, radio and the Internet. The statements also must disclose smoking's health effects, including the death on average of 1,200 people a day.
While the cigarette makers and the Justice Department this month began discussing how to carry out the corrective statements, a footnote in the ruling said the issue of whether retailers that have agreements with tobacco companies to sell their products _ which most sellers do _ will have to place the placards front and center in their stores "will be resolved in the near future."
Retail trade groups argue the move would infringe on their First Amendment and property rights. But public health organizations say the tobacco companies have long used retail displays for deceptive marketing and that retailers _ the typical meeting place between the cigarettes and their makers _ are an important place to communicate the public confession.
"It's just a vital location for these corrective statements so that youth and others who are going to buy cigarettes see (them)," said Howard Crystal, an attorney who represented several public health groups, including the American Cancer Society, the American Lung Association and the Campaign for Tobacco-Free Kids.
In her original 2006 ruling, the judge noted that retail stores have become one of the "central vehicles for communication of brand imagery and promotional offers" and "create tobacco friendly environments containing enticing displays, competitive prices, and visible point-of-sale advertising." An appeals court sent the ruling back to the lower court to decide how to better address the rights of stores that sell tobacco products.
Nearly 40 percent of U.S. convenience stores' $190 billion in annual sales comes from tobacco products, according to the National Association of Convenience Stores.
Retailers who refuse to put up the signs could also lose millions they receive from tobacco companies under agreements that give stores rebates to help lower cigarette prices and payments for prominently displaying products. For example, the owner of 50 stores in Indiana that has an agreement with the nation's top three cigarette makers received nearly $1.8 million in payments in one year, in addition to free promotional displays and fixtures, according to court documents.
"You can't take up valuable selling space and impact my bottom line to achieve your goal of having these corrective statements out there," said Andy Kerstein, who operates five tobacco outlet stores in New Jersey. He is president of the National Association of Tobacco Outlets, which represents about 20,000 tobacco stores, convenience stores and other stores that sell tobacco.
Retailers estimate the industry could lose $82 million per year in sales for every square foot of counter space taken up by the signs. The public health groups, however, said that would average out to only about 65 cents per day per retailer, according to court filings.
"If the government and the legal system wants to do something to the tobacco companies, do it to the tobacco companies," said Larry Southard, who opened Papa's Healthy Food & Fuel in western Massachusetts in 2004. "I don't know why they'd take it to that level when there are so many laws in place, there's so much information (about the health impacts of smoking) already, what is the purpose? To punish the retailer now?"
Fifty-six-year-old Southard, who smoked from around 16 until his mid-20s, didn't want to sell cigarettes his upscale convenience store but reluctantly decided to stock them under the counter when he realized customers were going down the street to pick up their smokes.
"The customers want them. ... It is unfortunately a part of the American culture," Southard said.
In their court filings on the issue, the tobacco companies, including Philip Morris USA, owned by Richmond, Va.-based Altria Group Inc., R.J. Reynolds Tobacco Co., owned by Reynolds American Inc., and Newport cigarette maker Lorillard Inc., said the retailer requirements would vary by store that they wouldn't be workable or fair.
Customers also could forgo profitable impulse items like candy or gum by the register, if the displays rub them the wrong way, retailers argue.
"If you walk in someplace and you all of the sudden don't feel as good as you did a minute earlier, you're going to buy less. And we're not talking about tobacco," said Jeff Lenard of the convenience store association. "We're talking about a drink, we're talking about a sandwich."