Graphic World Cup domestic violence ads highlight abuse spike during soccer tournament
WARNING: ARTICLE CONTAINS GRAPHIC IMAGES
As World Cup fans gather to cheer on their teams, powerful ads are targeting soccer aficionados to bring their attention to a huge issue surrounding the tournament – domestic violence.
Graphic images of injured people – photographed in a way to resemble specific countries' flags – are displayed on at least six billboards in England and posted on social media throughout matches.
Called the "Not-So-Beautiful Game," the ad campaign seeks to draw attention to the rise in reported domestic violence incidents during the World Cup.
A study of World Cup tournaments in 2002, 2006 and 2010 found reported incidents of domestic abuse rose by 38 percent when England lost a match and by 26 percent when England won or tied. The study, conducted by Lancaster University, analyzed data from the Lancashire Constabulary in the U.K.
An ad that says, "If England gets beaten, so will she," shows a woman with blood on her lips and nose in a cross shape – resembling the flag of England.
Another ad is a close-up photograph of a woman's reddened and stitched-up cheek with two white bandages in the shape of a cross – reflective of Switzerland's flag.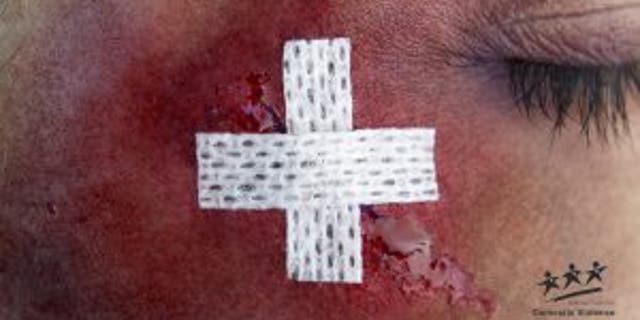 FEMALE WORLD CUP REPORTER SEXUALLY ASSAULTED DURING LIVE BROADCAST
"For many years, domestic violence was not taken seriously," Mark Groves, CEO of the National Centre for Domestic Violence (NCDV), told Fox News. "It's about time we make this socially unacceptable. That's what we aim to do: create a social conversation so that really people aren't scared about talking about [domestic violence] anymore so they can receive the support they need and understanding from their friends and peers."
On Instagram, J. Walter Thompson London, the communications firm that partnered with NCDV for the ads, shared additional photographs to correlate with the France and Belgium match Tuesday.
The Belgium flag ad appears to be the bloodied face of a man, with one Instagram user thanking the firm for acknowledging male victims of domestic violence as well.
"As fans across the world watch each game with trepidation so too do the partners of some of those fans," creative director Jo Wallace said in a news release. "This lesser known, darker aspect of football is clearly communicated with this impactful campaign."
WORLD CUP'S MOST SHOCKING MOMENTS THROUGH THE YEARS
A combination of heat, alcohol and intense crowds can become contributing factors to a rise in domestic violence around the World Cup, Groves said. He hopes the ads help people recognize warning signs and seek help if needed.
The Pathway Project, another U.K.-based domestic violence organization, also drew attention to abuse this World Cup. It said it is handing out "Red Card flyers" with statistics and its phone number throughout the tournament.
"No one wants England to win more than women," the card read.
England plays Croatia in the World Cup semi-finals match at 2 p.m. ET.