Gastric bypass may offer teens lasting weight loss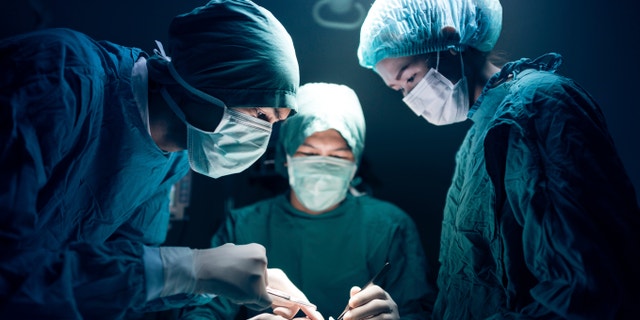 NEWYou can now listen to Fox News articles!
Extremely obese teens who get surgery to help shed excess pounds may achieve long-term weight loss, but some may also face additional operations and vitamin deficiency, two new studies suggest.
The studies focused on what's known as gastric bypass surgery, which is designed to trigger substantial weight loss by reducing the size of the stomach and rerouting the small intestine. Even though thousands of teens get gastric bypass each year, little is known about their long term potential for weight loss or complications.
Both studies showed surgery dramatically reduced teens' weight and helped them keep the pounds off for more than five years. But many of these adolescents remained obese even after losing lots of weight.
Results from one of the studies, with 58 patients aged 13 to 21, suggest that obese teens may want to consider surgery sooner rather than later, said lead author Dr. Thomas Inge, chair of pediatric surgery at Children's Hospital Colorado in Aurora.
"Surgery can reverse severe obesity and medical complications of the obesity," Inge said by email. "When all other reasonable efforts at control of weight have been attempted without success, gastric surgery should be considered early after the onset of severe obesity rather than waiting until more weight is gained."
At the start, the average body mass index - a ratio of weight to height - was nearly 42, which in an adult, for example, would translate to being five feet tall and weighing 215 pounds, or being six feet tall and weighing 309 pounds.
Overall, at five to 12 years after surgery, patients had about a 30 percent decrease in their body mass index, Inge and colleagues found. But almost two-thirds of the participants remained very obese and just one reached a normal weight.
Patients who had surgery sooner after becoming severely obese tended to get closer to a normal weight than individuals who waited longer, Inge noted.
The proportion of teens with diabetes dropped from 16 percent to 2 percent, and the proportion with high blood pressure fell from 47 percent to 16 percent after surgery. More than half had low vitamin D levels and almost half had mild anemia.
For the second study, researchers looked at data on 81 obese teens and 81 obese adults who had gastric bypass in Sweden and 80 obese teens who didn't have surgery.
After five years, adolescents who got surgery had an average weight loss of about 28 percent, while the teens who didn't have operations gained weight.
One quarter of the teens who had surgery needed additional operations to treat complications from the bypass or as a result of rapid weight loss, including bowel blockage and gallstones.
The benefits and risks of surgery over a lifetime remain unclear because the procedures are still too new to know how teens might fare in middle-age or old age.
But because there are no other effective weight loss treatments for teens with severe obesity, surgery should be an option for these patients to consider, said lead study author Dr. Torsten Olbers of the University of Gothenburg in Sweden.
Getting surgery and losing weight during adolescence might help teens do better socially with friendships and relationships and do better in school than they might if they're severely obese, Olbers said.
Operating sooner also gives teens less time to become even bigger, with the potential for even more post-operative complications.
"Gastric bypass appears safe and efficient regarding long-term weight control, and improvements in cardiovascular risk factors and quality of life," Olbers said by email. "Data (in teens) resemble the ample amount of reports from adults."
Both studies focused on a common type of gastric bypass known as Roux-en-Y, which reduces the stomach to about the size of an egg and rearranges the intestine so that food bypasses part of it. With adults, initial weight loss can diminish after five years, some previous research suggests.
Results from the two adolescent studies offer the most compelling data to date on the long-term outcomes in teens, Dr. Geltrude Mingrone, a researcher at Catholic University in Rome and King's College London, said by email.
The benefits are the long term weight maintenance, diabetes remission and reversal of high cholesterol and lipids in the blood, said Mingrone, author of an editorial accompanying the studies in Lancet Diabetes and Endocrinology.
"However, there are also surgical complications and vitamin deficiency with height growth problems and (thyroid issues)."