Former college wrestler aims to boost concussion prevention with clip-on device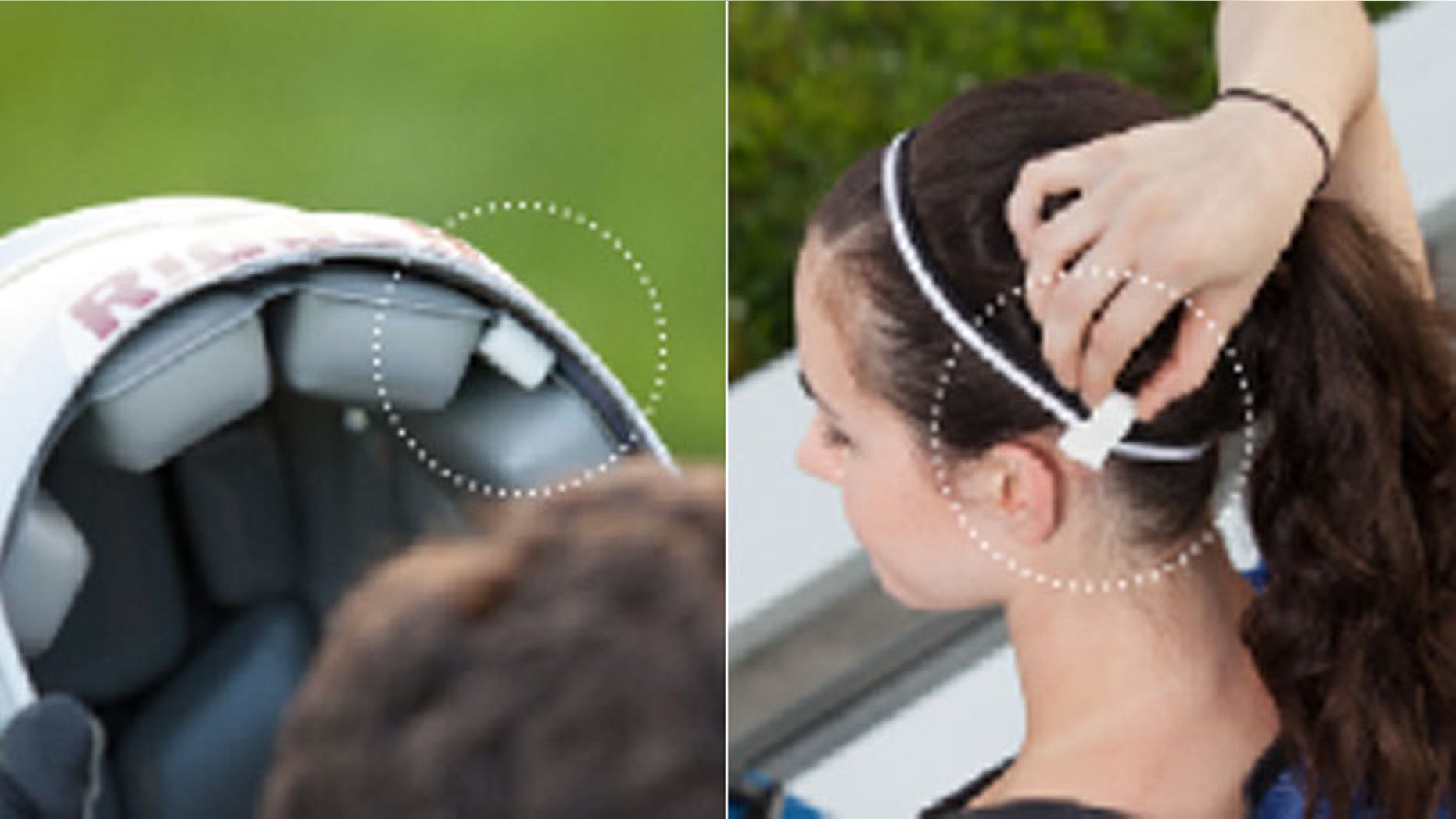 A former collegiate wrestler is looking to pin a dangerous opponent familiar to young athletes everywhere: concussions.
Benjamin Harvatine, founder and CEO of Jolt Sensor – a small clip-on attachment that can be fastened to a helmet, headband, goggles or headgear -- came up with the idea for a head injury detection device after sustaining his own concussion while wrestling at Massachusetts Institute of Technology.
"Aside from being hit in the head, I kept practicing even though I was dizzy," Harvatine told FoxNews.com of his injury. "I had a longer recovery because I kept practicing."
Harvatine is hardly the first athlete to continue activities after sustaining a concussion. According to the Centers of Disease Control and Prevention, 173,285 traumatic brain injuries -- including concussions -- are treated in children and adolescents from birth to 19 years every year. The CDC reports that the numbers and rates of these injuries are highest among high school athletes partaking in football and girls' soccer.
However, not every player demonstrates physical signs of a concussion, as damage can also occur on a microscopic, cellular level, Dr. Carolyn Brockington, director of the stroke center at Mount Sinai St. Luke's and Mount Sinai Roosevelt Hospitals, told FoxNews.com.
Looking to cut down on those injuries, Harvatine and his co-founder, Seth Berg, created the Jolt Sensor, which aims to track head impacts in real time, analyzing both large impacts and repetitive contact.
"Anything that can promote the prevention and or identification can be helpful," Brockington, who has not been consulted on Jolt Sensor, said.
When the device recognizes a potentially dangerous trend it will vibrate on the athlete's head, and also send an alert to a parent or coach's phone.
The dangers of an athlete returning to the field before the brain recovers from a concussion are not just short-term worries.
"The brain doesn't grow back," Brockington said, cautioning that injuring the brain over and over again will limit its ability to pull itself back together. "If you see someone who has had a concussion and is subsequently altered, that's someone who should not go in to play right away."
While the Jolt Sensor doesn't diagnose a concussion, it lists symptoms to check for and gives an objective count of the number and size of the impact an athlete has sustained, acting more as a precautionary tool.
"It's another tool in the parent's toolbox, aside from holding up fingers and asking the kids to count," Harvatine told FoxNews.com.
However, Dr. Adam Bartsch, a mechanical engineer and researcher, cautions the accuracy and precision of any data-tracking device should be taken into consideration by parents and coaches.
"There are a lot of gadgets that are commercially available that purport to measure head impact, and then some of them transmit information to an app or a smartphone or even to a person on the sideline" Bartsch told FoxNews.com.
"However, it's very challenging to measure a head impact accurately and precisely," he said, adding that the placement of a device plays a large factor in the data's accuracy. Attaching the device to an object bound to move like an athlete's hair or helmet or padding will result in inaccurate data sent to the sidelines, Bartsch explained.
"Depending on how well the sensors are attached to the head could change the results by an order of magnitude," Bartsch said.
Still, Brockington highlighted the importance of injury education and prevention.
"Prevention in medicine is better than dealing with something afterwards," Brockington said of the technology. "Over time there will probably be other technology that will look at how we can stratify someone's risk even more."
Though the Jolt Sensor is not in full production, Harvatine said they are in contact with a number of youth teams around the Boston and St. Louis areas who are excited to begin trial runs.
The Jolt Sensor team is aiming to begin production in March 2015, and will be available for purchase for around $80. The device is fully waterproofed, has a multi-week battery life and features a USB port for charging.
Click here to learn more about the Jolt Sensor on it's KickStarter page.