Family raising funds for former Marine's pregnant wife paralyzed in alleged armed robbery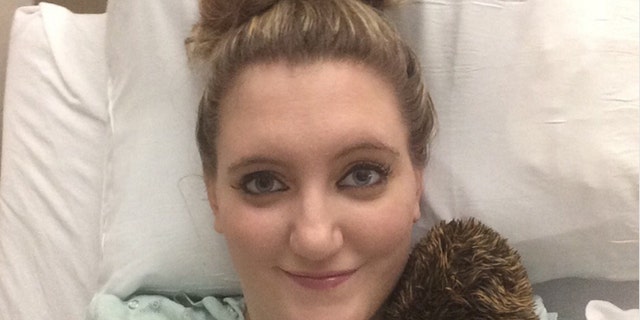 The Houston woman who was left paralyzed in an armed robbery and later discovered she was pregnant at the hospital is speaking out in an effort to help authorities nab the alleged suspects. Paxton Webb, 23, is still recovering at Texas Medical Center.
"I am here ad I'm fighting every day," she told KPRC2.
Webb was working at Katz Boutique, an adult shop, on Christmas Eve when a pair of armed suspects whose faces were covered allegedly demanded money from her before firing a shot into her back. The assault left her paralyzed from the chest down.
"The bullet completely severed my spine, hit my lungs, missed my heart by less than a centimeter, fractured a couple of ribs and fractured my left shoulder," Webb told KPRC2.
The duo allegedly made off with between $5,000 and $6,000 before Webb was rushed to the hospital where she was informed she was four weeks pregnant and that her baby was unharmed in the assault, KPRC2 reported. Webb is married to a former Marine, who was not named in the report, and the baby will be the couple's first child.
"This baby is a miracle. It shouldn't have survived it. I can't wait to find out what we're having and give birth," Webb told KPRC2. "It's seriously what is keeping me going."
A YouCaring page has been set up to help Webb and her family cover medical expenses.
Investigators are asking anyone with information about the potential suspects to call Crime Stoppers at 713-222-TIPS.