Diet Friendly Trick or Treats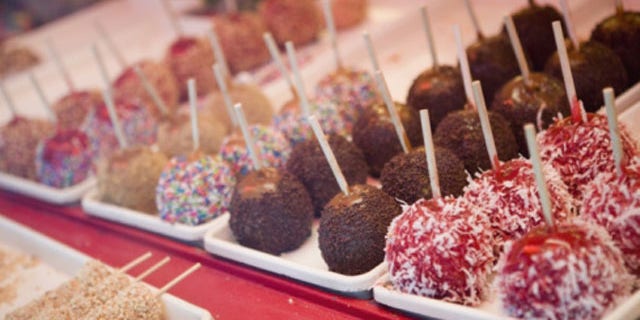 With over 20 grams of sugar, around 200 calories for just six tiny pieces, candy can be a real threat to anyone who is trying to watch their weight. So, how can you still "treat" your taste buds and "trick" your body?
Candy doesn't have to be a forbidden treat. In fact, the options that Lisa Roberts-Lehan, Certified Health and Nutritional Consultant, and Holistic Chef, provides are not only yummy, but also supply a good source of antioxidants from dark chocolate, healthy fats, iron, calcium and Vitamin E (from the sesame seeds and other nuts). All this is designed to prevent cardiovascular diseases and weight control.
Coconut Almond Chocolate Truffles
(Serves 15)
? cup of crunchy almond butter (or peanut butter or Sun Butter)
½ cup 65% cacao chocolate chips
1/4 cup unsweetened coconut flakes
dash of sea salt (optional)
Chill almond butter in the refrigerator for 30 minutes. Roll into 15 balls (about 1 teaspoon each). Place on a baking sheet lined with parchment or wax paper. Freeze balls until firm, about 1 hour. Melt chocolate in a double boiler over hot water. Roll balls into melted chocolate. Generously sprinkle the chocolate-dipped balls with shredded coconut. Refrigerate until chocolate is set.
Nutritional information per serving:
Calories: 94.2, Fat: 8.5 g, Carbs: 5.4 g, Protein: 2 g
Chocolate Crunch-A-Clusters)
(Serves 6, ½ cup per serving
1 cup small pretzels
1 cup popcorn, air-popped
1/4 cup pumpkin seeds
4 tablespoons 65% cacao chocolate chips
Dash of sea salt (optional)
1/8 teaspoon cayenne (optional)
Combine dry ingredients in a bowl. Melt chocolate in a double boiler over hot water. Pour chocolate over the dry ingredients and toss to combine. Season with sea salt and cayenne pepper to taste. Transfer the mixture to a parchment-lined baking sheet and refrigerate until chocolate is set, about 10 minutes.
Nutritional information per serving:
Calories: 193.8, Fat: 4.9 g, Carbs: 37.2 g, Protein: 5.7 g
Ghoulish Sesame Treats
(Serves 12)
1 cup sesame seeds
4 tablespoons pure honey or agave
1 ½ tablespoons lemon juice
½ teaspoon vanilla extract
Grind 3/4 cup sesame seeds in a coffee grinder, food processor or high power blender to a powdery consistency. Place in a bowl, add honey or agave, lemon juice and vanilla and combine with a fork. Toast the remaining seeds over medium-low heat, stirring constantly, until golden brown. Transfer to a bowl. Make 1/2 –inch balls out of the sesame paste and roll each ball in the toasted sesame seeds to coat. Enjoy immediately or refrigerate.
Nutritional information per serving:
Calories: 90, Fat: 6 g, Carbs: 8.6 g, Protein: 2.1 g
Note: All nutritional information provided by Spark Recipe Calculator.
Marta Montenegro inspires people to live healthy lives by giving them the tools and strength to find one's inner athlete through her personal website MartaMontenegro.com. She created SOBeFiT, a national fitness magazine for men and women, and the Montenegro Method DVD workout series – a program she designed for getting results in just 21 days by exercising 21 minutes a day . Marta is a strength and conditioning coach and serves as an adjunct professor of exercise physiology at Florida International University.
Follow us on twitter.com/foxnewslatino
Like us at facebook.com/foxnewslatino