Custodial worker uses musical talents to help hospital patients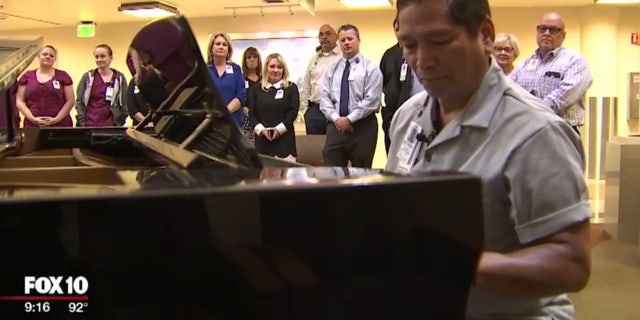 A custodial worker is providing more than just clean rooms to patients in Arizona, as he's tapped into his musical talents to help bring them peace during their stay. Two hours before his shift starts at Banner Desert Medical center and Cardon Children's, Rolando Maaba comforts patients, staff and visitors with his piano playing, Fox 10 reported.
"Music is very, very important, especially when I work in a hospital," he told the news outlet. "I can help some people, the patients and their relatives… I give them something to be calm, and to forget the problem and some healing. Music is very important. Especially for that."
DOG FLU IN FLORIDA: HEALTH OFFICIALS CONFIRM 7 CASES OF POTENTIALLY DEADLY VIRUS
Maaba, who is from the Philippines, taught himself how to play the piano more than 40 years ago. His melodies have become a staple for staff and helps ease the stress of their jobs.
"When I don't hear, I'll peek out and see what's going on," Tricia Bruce, a patient navigator with the American Cancer Society told Fox 10. "Every day it's an enjoyment. When he comes on his shift, I know and I make sure my door is open just so I can get that peaceful afternoon."
UNNECESSARY BREAST SURGERIES GET UK DOCTOR JAILED FOR 15 YEARS
Maaba said it's difficult to explain where his musical talents came from, but he feels like it's part of his purpose in life.
"Maybe upstairs God gifted me that talent," he told Fox 10.