Couple nearing 71 years of marriage reunited while battling illnesses at same hospital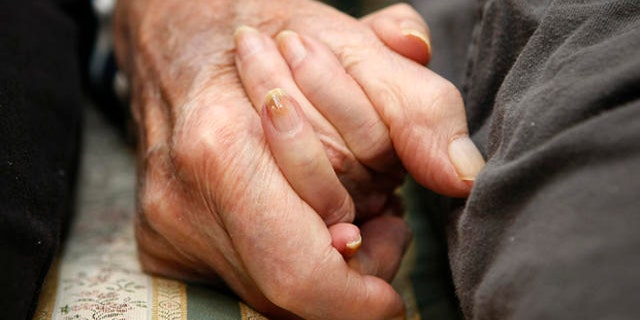 NEWYou can now listen to Fox News articles!
A Virginia couple unknowingly admitted to the same hospital for separate illnesses shared a moment together as they neared their 71st wedding anniversary. John Mullins, 92, and his wife Bernice, 90, had the help of nurses at Johnston-Willis Hospital to make the meeting possible, Fox 25 reported.
"I asked the nurse if it was possible," Cheyenne Marion, John's caregiver, told the news station. "I was told he was hooked up to too many machines and it was not possible to take him out of his hospital room."
John has been hospitalized since November as he battles prostate and lung cancer. Bernice was admitted in early December after losing her leg to diabetes. The couple formulated a plan B and asked if Bernice could instead be moved to a room closer to John, and the nurses said yes.
"They were together about an hour or two holding hands and sleeping," Marion told Fox 25. "I was crying, and all other nurses were crying. It was like a real-life 'The Notebook.'"
The couple was married in 1945 in Florida when John was in the Navy. After 40 years of marriage, and six children, 16 grandchildren, 41 great-grandchildren and 13 great-great-grandchildren, the Mullins decided to live next-door to each other rather than together, but never divorced.
"My grandfather was a little bit of a wild child, and that's when they actually separated 30 years ago," Angie Gaines told Fox 25. "But they never divorced. They never moved away from each other. They lived side by side. They actually got along better that way. Even though they separated, they never stopped caring for each other. He would do her shopping and she would pay his bills. The love never went anywhere."
Marion said John always asked to be brought to his wife's home while hospitalized, and always wanted to bring her a gift.
"I just love her to death," he said.