9 choke to death on traditional New Year rice cakes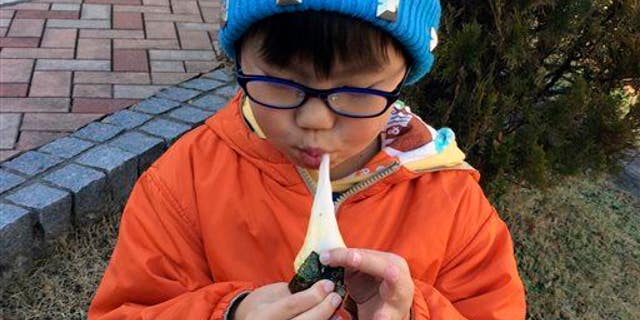 It's both a New Year tradition and New Year killer: The Japanese eat an average of about 2 pounds of chewy rice cakes called mochi each year, most during the first week in January.
And each year, a handful of people choke to death on them. This year's toll was especially severe as compared to recent years: AFP reports by way of local media that as of Friday nine people had died and another 13 were hospitalized; the last two years saw a total of six reported deaths by mochi.
The Guardian reports that all but about 20% of the victims are typically elderly, and Japan Today earlier reported that the six people who were taken to Tokyo-area hospitals on Thursday ranged in age from their 50s to their 90s.
The sticky rice cakes are generally added to "ozouni" soup over the holidays, but they can also be toasted and wrapped in dried seaweed. The country's police and fire services advise the elderly to cut the mochi into small pieces and never eat it alone.
In a 2011 look at the "silent killer," the Wall Street Journal explained why the elderly are more susceptible to mochi-related deaths, which it describes as the leading cause of food-related suffocation: Age chips away at their "mastication abilities and saliva secretion," making it easier for a bite of the glutinous cake to get lodged in the throat.
In advance of last year's new year, the Guardian reported that companies have been hustling to create a version that incorporates an enzyme that reduces the stickiness without sacrificing mochi's starchy flavor.
(In the US, there were some New Year's-related deaths, too.)
This article originally appeared on Newser: 9 Choke to Death on New Year Rice Cakes
More From Newser