6-year-old has raised over $90G to find cure for brother's rare condition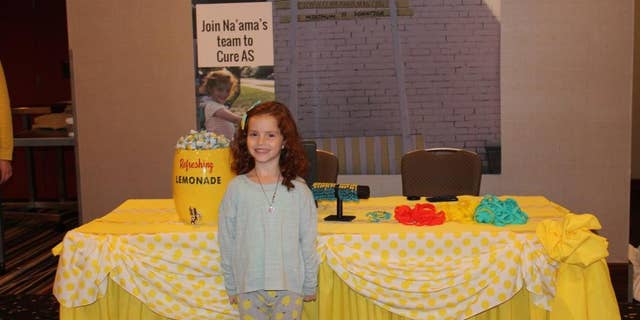 NEWYou can now listen to Fox News articles!
A 6-year-old Canadian girl has raised about $92,000 to help save her brother's life since she started a lemonade stand outside of her family home when she was 4.
CBC.ca reported that Na'ama Uzan set off to sell the lemonade, and eventually baked treats, in 2014 to raise research funds for Angelman syndrome, a genetic disorder that can cause neurological and developmental disabilities, and that her brother Nadav was diagnosed with that year. According to the National Institutes of Health (NIH), Angelman syndrome affects an estimated one in 12,000 to 20,000 people.
On Monday, dubbed International Angelman Day, firefighters and paramedics participated in a charity ice hockey game in Toronto to raise funds for the research. Ru Uzan, Na'ama's mother, told FoxNews.com that they raised more than $7,200 at the event.
"We have cupcakes and muffins," Na'ama said at the event, which also included a bake sale, according to CBC.ca. "It's been going really, really, really, really well."
Na'ama's fundraising has helped the Foundation for Angelman Syndrome Therapeutics (FAST) hire a post-doctoral researcher, CTV News reported.
"There's somebody working every day knowing that a little girl is standing on the corner calling out for lemonade and that is paying her salary," Ru Uzan, Na'ama's mother, told CTV News Channel.
Na'ama told CTV News Channel that she wants Nadav to be able to "skate, talk, and be able to do lots of stuff."
When asked in 2015 why she started the lemonade stand, Na'ama told ABC News the answer was simple: "Once I heard about it, I wanted to help— because he's my brother, and I love him."