6-year-old boy breaks out in celebratory dance to mark end of chemotherapy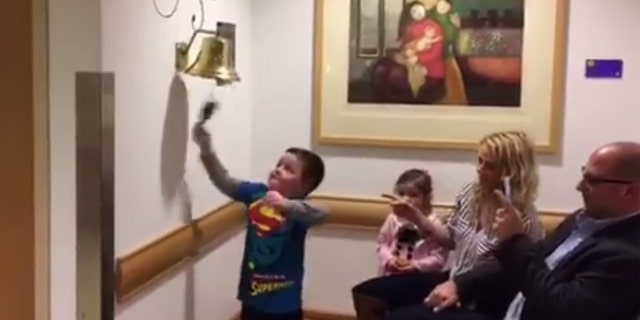 A 6-year-old boy who has been fighting an inoperable brain tumor since infancy donned a Superman T-shirt to his ceremonial ringing of the chemotherapy bell at the Children's Hospital of Pittsburgh at University of Pittsburgh Medical Center on Thursday.
Jimmy Spagnolo, who finished a year-long round of chemotherapy, busted out in a victory dance for the momentous occasion that was caught on film and shared on the hospital's Facebook page.
"The bell signifies so many emotions – it can signify the sound of tears, strength, fear, courage, doubt, satisfaction, relief and happiness all coming through as one as people around them cheer this accomplishment," the hospital posted on Feb. 3, alongside the video. "The sound of that bell resonates in more ways than one. The emotion in the room is just unbelievable."
Jimmy, of Shaler Township, Pennsylvania, was just 4-months-old when doctors found the tumor, KDKA reported. The family turned to Facebook to document his health battles and gather support from friend and family.
"Jimmy is here for a purpose, and his purpose is to spread hope and love and inspire people, Lacie Spagnolo, Jimmy's mom, told KDKA. "And that's all he does."
Though the chemotherapy shrunk the tumor, it did not completely rid of it, KDKA reported. Doctors believe Jimmy will be able to live with the tumor at this size.
"It's one victory notch in our belts, seven years later," Spagnolo told KDKA. "Will we have many more? You bet we will."
Jimmy's video has been viewed more than 270,000 times.