10 ways to prevent your child from being overweight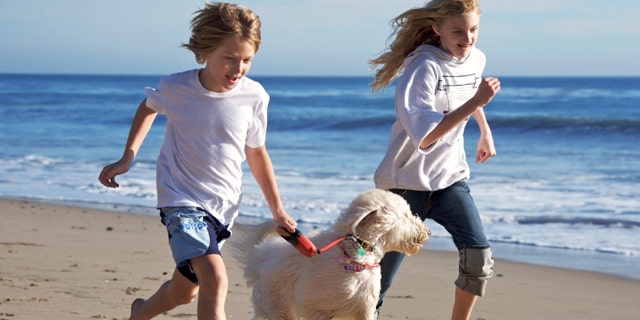 With more than 30 percent of children in America who are either overweight or obese, it's a health concern that's on every parent's mind and an epidemic with serious health consequences.
Children who are overweight are at increased risk for high blood pressure, high cholesterol, type 2 diabetes, sleep apnea, and even orthopedic problems that prevent them from playing like kids should. Plus, if the problem isn't tackled now, they're more likely to have weight problems as adults.
The good news is that with some planning and strategy, you can set your child up for a lifetime of healthy living now. Here are 10 ways.
1. Start during pregnancy.
Studies show that excessive weight gain during pregnancy can actually put your baby at risk for being overweight as a child. And teaching healthy habits before your child even starts kindergarten will encourage a lifetime of healthy living, according to Sarah Krieger, a registered dietician and spokesperson for the Academy of Nutrition and Dietetics.
2. Be a role model.
Forcing children to eat vegetables isn't going to make them want to do it. Instead, model the healthy habits you want for your children, like eating breakfast every morning and they'll be more likely to follow suite. And even if you dread working out on the treadmill, don't let your child know it. "When you are active with your kids, they have fun and they see that adults have fun doing activity too," Krieger said.
3. Eat more fiber.
Although eating fiber-rich foods like fruits and vegetables are low-calorie, nutritious options that can keep your child feeling full longer, most children are not getting enough, according to the Dietary Guidelines for America 2010. Krieger suggests aiming for a grocery bill that includes a third of fruits and vegetables. Be sure to add whole grains, beans, peas, nuts and seeds to your child's diet and follow the USDA's Choose My Plate image when serving meals: ½ fruits and vegetables, ¼ grains, and ¼ protein.
4. Give technology a break.
Toddlers love to run around and play but it's a whole different ball game once technology is introduced, according to Len Saunders, author of Keeping Kids Fit. All that time spent texting, on Facebook, or listening to the iPod is a major risk factor for obesity so limit the tech time and get your kids moving.
5. Get creative.
Got a picky eater? Variety is the spice of life when it comes to getting your child to eat fruits and vegetables. Try different ways to cook veggies like roasted, grilled or dehydrated. Look for new recipes, substitutions and different ways to serve the same foods.
6. Find opportunities to move.
It's recommended that children get an hour of physical activity every day, but between working long hours, after-school activities, and safety concerns, finding time can be challenging but there are ways to make it work. Break up the 60 minutes into smaller increments throughout the day: 20 minutes before and after school and 20 minutes after dinner. If it's raining, set up an obstacle course in the house or a fitness-based scavenger hunt that challenges your child to do push-ups with every new item he finds.
7. Get them involved.
When children participate in meal preparation, they're much more likely to make better choices. Devise the food shopping list together or let your children pick out new vegetables they want to try. Planting a few vegetables and letting your children help you cook are all great ways to make them a part of the process too.
8. Exercise together.
If you're not active, it's unlikely your children will want to be. "For kids, exercise doesn't need to be anything complicated," Saunders said. Go to the playground, take a walk after dinner, go for a bike ride, or play catch in the backyard. If you work late, set up a rotation of parents in the neighborhood who can supervise play time.
9. Snack smart.
Instead of grazing all day on pretzels and chips, snacks should be an opportunity for your child to fill in the gaps with nutrients she lacked at other meals. Emphasize fruits and vegetables with some protein or a carbohydrate and keep it small so she's still hungry for dinner.
10. Eat meals together.
According to a recent study published in the journal Pediatrics, children and teens who ate family meals together 3 or more times a week were 12 percent less likely to be overweight. Plus, kids whose families eat together were healthier eaters and were less likely to have disordered eating habits. Even if you can't always eat dinner together, breakfast counts too.