World's biggest McDonald's restaurant is coming to the London Olympics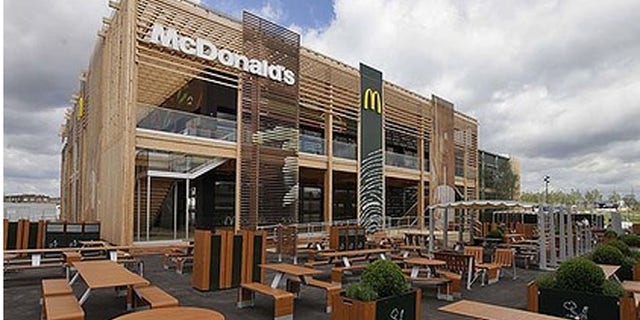 Forget about supersizing some fries, how about supersizing an entire McDonald's.
The fast-food giant has jumped on the pop-up restaurant bandwagon for the 2012 Olympics by building a flagship restaurant of world record breaking size in east London.
The two-story restaurant, which is next to the Olympic Stadium, will be its biggest and busiest in the world, seating 1,500 diners and serving up to 14,000 people a day.
According to the Daily Mail, the 3,000 sq. ft. the building, which features recycled timber, will be dismantled after six weeks. The materials and most of the furniture and fittings will be reused in other McDonald's restaurants after the games. The restaurant will have special waste-sorting facilities will ensure that most garbage gets recycled, executives said.
The restaurant, and three other outlets at the Olympics venue, will be staffed by 2,000 McDonald's best employees.
The fast-food giant is a top Olympics sponsor with exclusive rights to sell branded food products inside the venue. The company says that all the beef will come from British farms, and the chocolate used in muffins will be fair-trade.
But British doctors have complained that the food choices at the Olympics restaurant are largely identical to McDonald's fare around the world — Big Macs, milkshakes, fries and chicken nuggets.
The only addition to the menu is iced fruit smoothies, which haven't yet been introduced in other British McDonald's.
The Associated Press contributed to this report.