We tried it so you don't have to: Peeps Milk
It's that time of year when drug store shelves are stocked full of pastel colored candies. Chocolate eggs, jelly beans--and those sugary Marshmallow Peeps.
But this year Peeps are moving from the candy aisle to the dairy aisle.
Prairie Farms dairy has teamed up with Peeps-maker Just Born to create Peeps Milk in three flavors: Chocolate Marshmallow, Marshmallow and Egg Nog.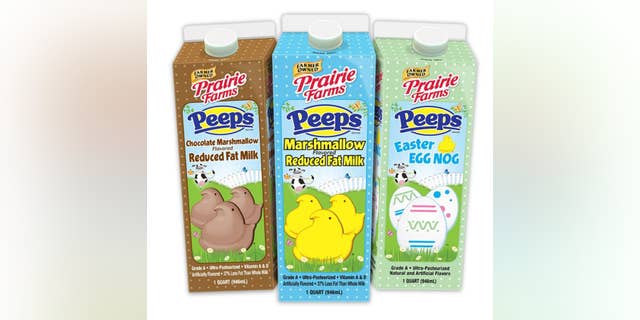 So how do they taste?
If you like Peeps, then you'll be in Easter heaven. If you don't, you may throw up.
Chocolate Marshmallow basically tastes like a creamy, thick chocolate milk. It's a better version of Nesquik or any other powdered additive we've tried recently and was the hands-down the office favorite among the group. The Egg Nog tastes pretty much how would expect—without the alcohol. It's the thickest of the three and definitely the richest and could be difficult to get down.
The most surprising, and divisive flavor was the plain Marshmallow. Its consistency and taste mirror melted vanilla ice cream—but sweeter. If you could liquefy and chill a marshmallow, we imagine this would be the result.
"I don't think marshmallow should ever be a milk," one taster commented. "I may gag but it's also pretty delicious."
The slightly yellow color is a bit off-putting but for those with a serious sweet tooth, one sip is all you need to be transported into a Willy Wonky dream.
All three would make a great addition to a milkshake but even though Peeps milk is real dairy, it should be treated more like a dessert, not a replacement for your daily glass of skim. And if your kid is prone to sugar highs, you better keep this hidden.
The plain and chocolate marshmallow versions use 2 percent reduced fat milk--but each boasts a whopping 250 calories per cup serving with 37 grams of sugar. The thick Egg Nog has 380 calories, 18 grams of fat and 40 grams of sugar in a one cup.
Peeps Milk will be available for a limited time in grocery stores throughout the Midwest, and after they they hop away like the Easter Bunny.