UFC fighter Matt Serra subdues 'drunk' at Las Vegas restaurant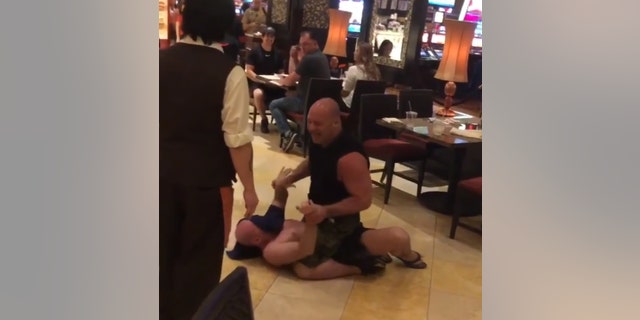 A UFC fighter claims he was forced to bust out his talents at a Las Vegas café after an "a—hole drunk" allegedly began threatening the staff on Wednesday.
Matt Serra, a former welterweight champion with the Ultimate Fighting Championship, shared the news in a series of Instagram videos taken at the Grand Café at Red Rock Casino, according to TMZ.
CONOR MCGREGOR BLASTS TENNESSEE WHISKEY: 'IT'S A CRIME'
In the clips, Serra is first seen observing the allegedly intoxicated man and likening his (and his dining companion's) behavior to the film "Weekend at Bernie's." But by the start of the next clip, Serra was already on top of a man who appears to be the same customer, after he allegedly tried to take a "swing" at Serra.
WARNING: Clip contains strong language.
At the start of the video, Serra can be seen sitting on top of the diner, who is now shirtless, and holding him down as he thrashes on the floor.
"I'm gonna f--- you up," the man can be heard telling Serra, who repeatedly tells the customer to "calm down."
JOEY CHESTNUT, MIKO SUDI WIN NATHAN'S HOT DOG EATING CONTEST
The man also appears to be talking to the restaurant staff, telling them he wants to press charges against Serra, before Serra eventually backs off and allows the restaurant's security to take over.
The incident took place the night before Serra was slated to be inducted into the UFC Hall of Fame alongside Ronda Rousey and UFC executives Bruce Connal and Art Davie, Forbes reports.
FOLLOW US ON FACEBOOK FOR MORE FOX LIFESTYLE NEWS
The induction ceremony is set to air live from the Palms Casino Resort on July 5 at 10 p.m.