Back in the good old days, Dad would wheel the grill out of the garage, fill it with charcoal, douse the briquette with lighter fluid and start a glorious fire to cook our Fourth of July meal. While many grill masters today still extol the virtues of charcoal, others enjoy the convenience of gas grills, while a few have become wood pellet converts. If you are not familiar with wood pellet grills, or if you are in the market for a new backyard cooking device, check out our list of the top 10 barbecue grills.
1. Broil King Crown 90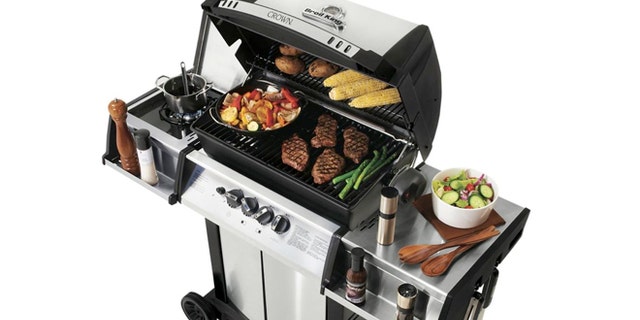 Cooking system: Liquid Propane or Natural Gas
Price: $549
If there were a grilling monarch, the Broil King Crown 90 would mostly likely be among his most prized crown jewels. This grill combines an incredible amount of unique features in a unit that's very fairly priced. It has a stainless steel "Infinity Burner" for searing, a stainless steel side burner and a rear rotisserie burner. It also features stainless steel "Flav-R-Waves" to help capture and instantly vaporize juices, aluminum exterior, built-in temperature gauge and "Sure-Lite" electronic ignition system. But the crème de la crème has to be the multi-position porcelain-coated cast iron cooking grids. Cast iron cookware has been prized among chefs for hundreds of years because it has the ability to withstand and maintain very high cooking temperatures, making it perfect for quickly searing quality meats.

2. REC TEC Wood Pellet Grill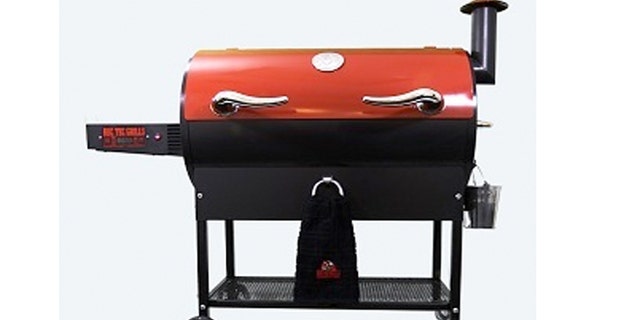 Cooking system: Wood Pellets
Price: $998
Technically a smoker, this smart and versatile machine from REC TEC can do it all — smoke, grill, sear and even bake. Utilizing compressed, even-burning wood pellets and a precise digital controller, the REC TEC Wood Pellet Grill maintains accurate temperatures from 200 to 500 degrees Fahrenheit in 5 degree increments, making it great for everything from slow-cooked pulled pork, to steaks, to pizza and other items you would normally throw in the oven. The REC TEC especially excels at smoking ribs, brisket and other barbecue staples, with the wood pellets imparting just the right amount of smoky goodness at low temperatures. While similar pellet grills can run you as much as $5,000, the REC TEC is modestly priced at just under a thousand, and comes backed with a six-year limited warranty, as well as a team of friendly BBQ pros who are dedicated to making happy cooks out of their customers.
3. Bull Outdoor Products: Bison Stainless Steel Grill Head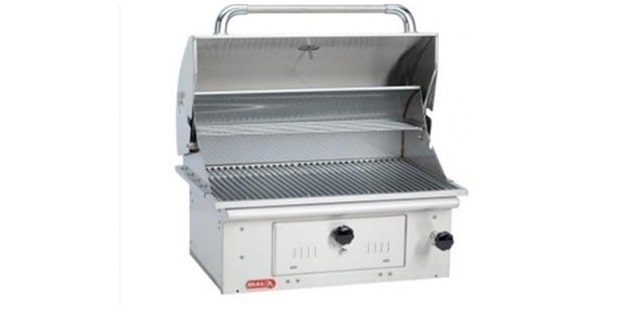 Cooking System: Charcoal
Price: $1,354
Okay, so you're keen on keeping your grill in one place. However, now you have to cross that much-debated line in the sand: do you join the future and choose propane? Or do you journey back to the days of yore and choose charcoal? Well, sorry Hank Hill, but many believe that charcoal is the best choice. Propane may be more convenient, but charcoal creates more smoke, and thus provides additional flavor. With that said, if you're in the market for a built-in charcoal grill, look no further than the Bison Stainless Steel Grill. It features an ample amount of grilling space, air control vents on the hood and firebox, easy-to-clean charcoal bins, temperature gauge and stainless steel construction. The grill also has a unique feature that allows you to manually adjust the elevation of the coal.

4. Char-Broil Quantum Infrared Urban Grill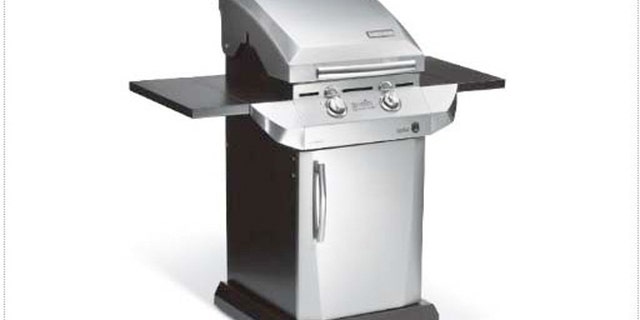 Cooking system: Liquid Propane Gas
Price: $299
Behold the future of grilling. Okay, that might be a stretch, but the Char-Broil Quantum Infrared Urban Grill uses a revolutionary type of new cooking system (known as the "Quantum Infrared" system) that will definitely change the grilling game. Just above each burner is a specialized "Infrared" surface; when the grill is turned on, these surfaces absorb the heat and radiate it evenly throughout the entire grilling area. This technology not only eliminates those bothersome hot and cold grilling spots, but it also allows the burners to retain a broader range of heat: from intense and searing to low and slow. In addition, because of the nature of the surfaces, the Quantum only requires two burners, saving you both space and gas. As if that weren't enough, the grill also features a stainless steel exterior, folding side shelves and a "Surefire" electronic ignition system.
5. Char-Griller 3001 Grillin' Pro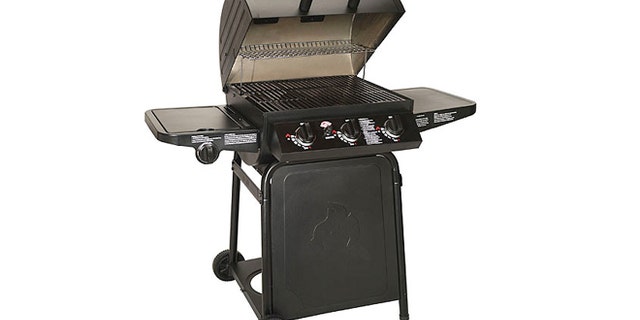 Cooking system: Liquid Propane Gas
Price: $199
Originally, Char-Griller made charcoal grills and smokers, but recently the company started manufacturing propane grills as well. The distinctive shape of the Grillin' Pro alludes to its original design as a charcoal smoker, but it happens to work perfectly as a gas grill. It features a heavy-steel construction, wonderful porcelain-coated cast iron grates, dual ventilation stacks for heating, warming rack, side burner, stainless steel thermometer and a large side shelf for storing utensils. The Char-Griller 3001 Grillin' Pro is on par with other similar-sized backyard grills on this list, but it sells for a fraction of their price, which makes it an excellent buy.
6. Coleman 9949-750 Road Trip Grill LXE 175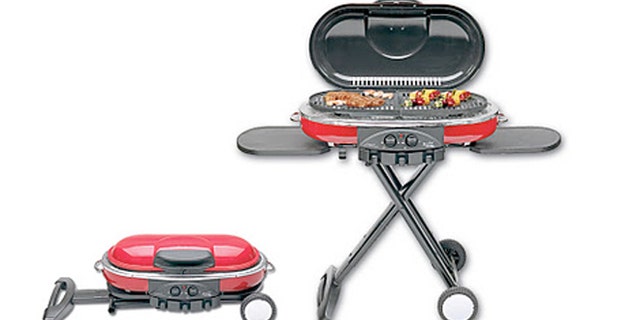 Cooking system: Liquid Propane Gas
Price: $190
Just because a grill has wheels doesn't mean it's portable. If you're on the road, you may need a grill that's ultra compact, as well as light and mobile. Look no further than the Coleman Road Trip Grill LXE. This nifty little grill has a large grilling space, as well as two folding side tables and a matchless ignition system. However, if you need to move, the grill folds down to a fraction of its size and can be stored easily in a backseat or trunk. The grill also has a very convenient pull handle and durable all-weather wheels. It operates off of a 16.4 oz propane tank, which means the grill can last for up to 1.1 hours with both burners on full or 4.5 hours with both burners on low. If you're going on a road trip or camping out and need an ultra-portable grill, the Coleman LXE is our recommendation.
7. Ducane Affinity Series 4100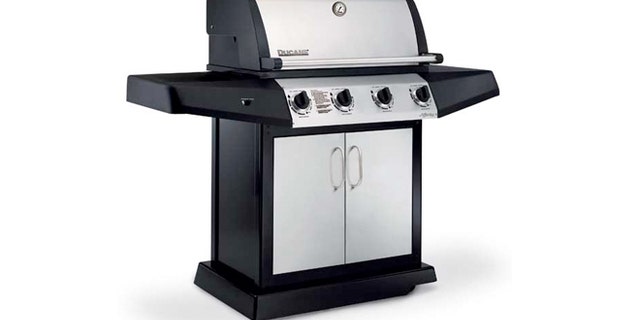 Cooking system: Liquid Propane Gas
Price: $341
You're bent on starting your own Peter Luger steakhouse in your backyard, but you're a bit tight on cash. Never fear, Ducane is here! The Ducane 4100 series is a truly high-end grill that isn't priced like one. It features several porcelain-enameled heat distribution plates, an ultra-quick electronic ignition system, stainless steel rod cooking grates, a built-in thermometer and two scratch-resistant working surfaces. The 4100 series is a great buy for an avid griller looking for a professional barbecue that's priced affordably.
8. Napoleon: BIM605RBI Mirage 605 Built-In Grill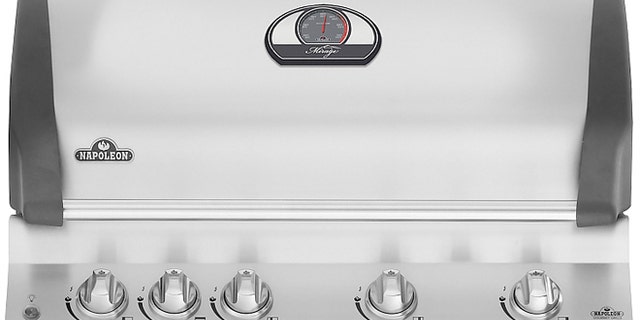 Cooking system: Liquid Propane Gas
Price: $1,269
Not everything needs to be so mobile these days, especially grills. So, if you're looking to keep your barbecue in one location, the Napoleon Mirage 605 Built-In Grill is the right grill for you. It features a high-intensity ceramic infrared bottom burner for searing, stainless steel sear plates to help eliminate drippings, temperature gauge, automatic ignition, backlit control knobs and full-width removable drip pan for easy maintenance. But the best thing about the Mirage? Well, that has to be all of the optional accessories. Because it's a built-in grill, you can customize your individual Mirage with a whole slew of fun toys depending upon your available space: additional burners, an optional rotisserie, storage drawers and so on. Who says the future is all about portability?
9. PGS A30 Cast Aluminum Grill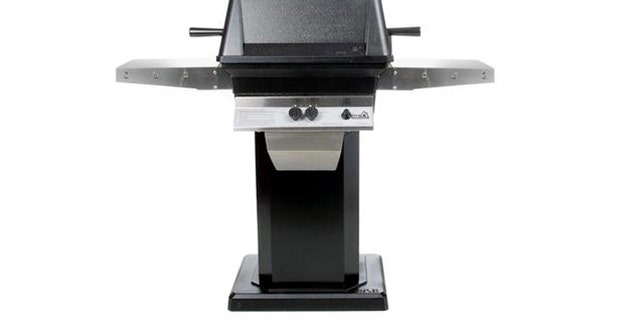 Cooking System: Liquid Propane Gas
Price: $887
If you're looking for a propane grill for your apartment patio, but it's kind of a tough fit, make sure to check out the venerable PGS A30. It's a small but powerful grilling machine, which features a "sure start" electronic ignition system, dual controlled "H" burner, warming rack, aluminum exterior and ceramic "Moon Rok" system that ensures even heat distribution throughout the entire grilling surface. (No moons were harmed in the making of this product.) You can also choose between a bolt-down patio post, or a more portable base if you like to do your grilling on the run.
10. Weber 2780301 Summit S-670 Stainless Steel Grill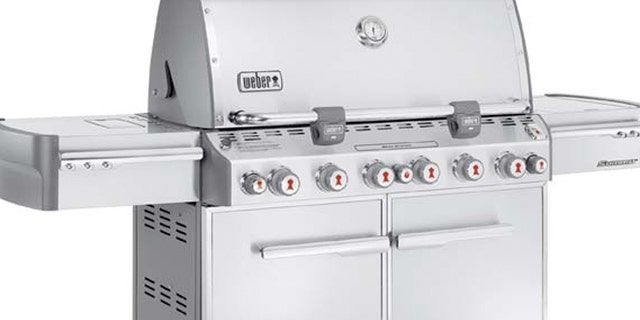 Cooking system: Liquid Propane Gas
Price: $2,499
First established in 1952, Weber has grown to become one of the top manufacturers and exporters of barbecue grills throughout the world. The Summit S-670 is Weber's grilling pièce de résistance for a reason — it's top-of-the line. It features a flawless stainless steel exterior, authentic smoker box and burner, rotisserie system with an infrared burner and LED fuel scale, high-powered sear station and "Flavorized" bars to catch juices and create smoke (to lock in flavors) while preventing bothersome flare-ups. It even has lighted control knobs for those stealthy night grilling sessions. Sure, it's the most expensive grill on our list, but it embodies efficiency, and carries with it the reputation of one of the most respected and oldest grill manufactures in the world.
MORE ON GAYOT.com
Photos and Where to Buy the Top 10 Barbecue Grills