Taco Bell testing Firecracker Burritos sprinkled with popping candy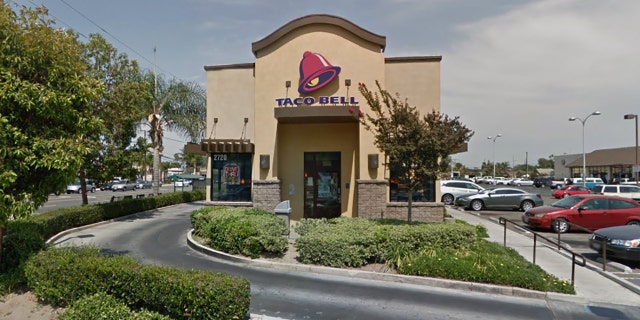 Say what you will about Taco Bell, but they certainly aren't running out of ideas.
The same chain that gave us the Grilled Stuft Nacho and the Naked Chicken Chalupa is reportedly testing a brand new Firecracker Burrito that customers can choose to top with spicy popping "crystals" reminiscent of Pop Rocks.
SEE TACO BELL'S VERY FIRST LAS VEGAS WEDDING CEREMONY
A Reddit user by the name of Elbore was the first to report on this "funky new test item" after seeing it advertised at his local Taco Bell, and days before it made its first appearance on Instagram.
"It was late, the location didn't even say it was open, and the item was on a lawn sign and not on the menu itself, so I just ordered it," he wrote.
PIZZA WARS: WHY DOMINO'S COULD PASS PIZZA HUT AS INDUSTRY LEADER
According to Elbore, the Firecracker Burrito contains beef, rice, nacho cheese and tortilla strips, and comes wrapped up in a red tortilla. There's also a spicy version that contains chipotle sauce. The pièce de résistance, however, is the packet of "cayenne popping crystals" that Taco Bell provides with the burrito, to be sprinkled on each bite.
The Redditor also confirmed that the crystals were "sweet and crackle like Pop Rocks," but claimed to be a bit baffled by the idea.
"I was very confused by the whole thing, but it was only $1.49," wrote Elbore.
FoodBeast further reported that the Firecracker Burrito itselves costs just $1.29, with the popping crystals selling for an additional $0.20.
FOLLOW US ON FACEBOOK FOR MORE FOX LIFESTYLE NEWS
At the moment, Taco Bell is only testing Firecracker Burritos at four locations, reports FoodBeast. Elbore has already confirmed one of those — the Taco Bell on W. Edinger Ave. in Santa Ana, Calif. — but its still unclear which of the chain's other locations will be participating.
A representative for Taco Bell was not immediately available for comment.