Spend Valentine's Day at the most romantic restaurant in the country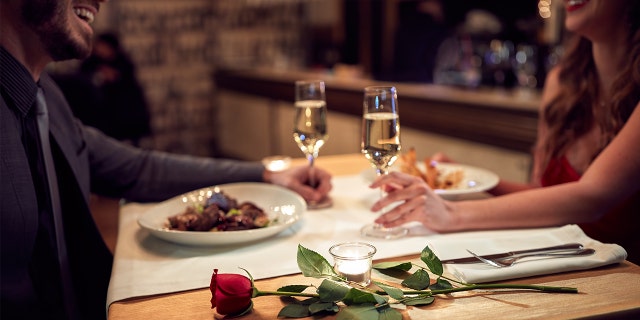 If you're looking for the perfect way to impress your date this Valentine's Day, why not take them to one of the most romantic restaurants in the country?
Yelp compiled a list of 25 restaurants in the U.S. considered the most romantic, based on volume of reviews mentioning the word "romantic" as well as rating, to help ease the stress of planning a night out for that special someone.
HOOTERS WILL GIVE YOU FREE WINGS ON VALENTINE'S DAY IF YOU SHRED A PICTURE OF YOUR EX
The list included no more than three restaurants per state, with many located in major cities. While unsurprisingly there are several locales on there in New York City (Gramercy Tavern at No. 24, Club A Steakhouse at No. 9 and Thomas Keller's Per Se at No. 20), Chicago (Gilt Bar at No. 23, Penumbra at No. 4 and Baette's Bar & Boeuf at No. 2) and Philly (Bistrot La Minette at No. 21 and Talula's Garden at No. 11), the number one spot was nabbed by a place a little more under the radar.
The most romantic restaurant according to Yelp reviewers is Café Monarch in Scottsdale, Arizona. While you might not have heard of this family-owned joint, it's no surprise it ranked number one. It's been named on dozens of top dining lists, including OpenTable's Top 100 Best Restaurants in America for three years in a row.
Café Monarch is a fine-dining destination that serves a weekly rotating four-course menu. The dishes revolve around local, organic, sustainable and overall responsibly procured ingredients, according to its website.
For Valentine's Day, the chefs will be cooking up a specially prepared prix fix meal for $100, which includes some delicious sounding items like Roasted Apple and Parsnip Soup, Rosemary Butter Basted Filet Mignon or Seared Chilean Seabass and Rum Cake with Vanilla Bean Gelato, Salted Caramel-Toasted Pecan Sauce. Gluten free and vegetarian options are also available, as well as wine pairings for $45.
In addition to the impressive food and alcohol offerings, Yelp reviewers also raved about Café Monarch's attentive but not overbearing service and great ambiance (bistro lighting, candles, a cozy fire), according to Travel + Leisure.
FOLLOW US ON FACEBOOK FOR MORE FOX LIFESTYLE NEWS
If you can't make it to Arizona for the romantic holiday, then take your date to one of the other 24 most romantic restaurants in the country, according o Yelp.
25. Tidepools in Poipu, Hawaii
24. Gramercy Tavern in New York City, New York
23. Gilt Bar in Chicago, Illinois
22. La Mer in Honolulu, Hawaii
21. Bistrot La Minette in Philadelphia, Pennsylvania
20. Per Se in New York City, New York
19. St. Martin's Wine Bistro in Dallas, Texas
18. Eiffel Tower in Las Vegas, Nevada
17. The Black Pearl in Dunedin, Florida
16. Bella on the River in San Antonio, Texas
15. The Olde Pink House in Savannah, Georgia
14. Bern's Steak House in Tampa, Florida
13. Chef Adrianne's in Miami, Florida
12. Café Amelie in New Orleans, Louisiana
11. Talula's Garden in Philadelphia, Pennsylvania
10. Cibo in Phoenix, Arizona
9. Club A Steakhouse in New York City, New York
8. Mama's Fish House in Paia, Hawaii
7. Island Prime in San Diego, California
6. L'ardoise Bistro in San Francisco, California
5. Gourmet Italia in Temecula, California
4. Penumbra in Chicago, Illinois
3. Canoe in Atlanta, Georgia
2. Bavette's Bar & Boeuf in Chicago, Illinois
1. Café Monarch in Scottsdale, Arizona