Red, white and 'cue: How 2 Marines built a thriving barbecue business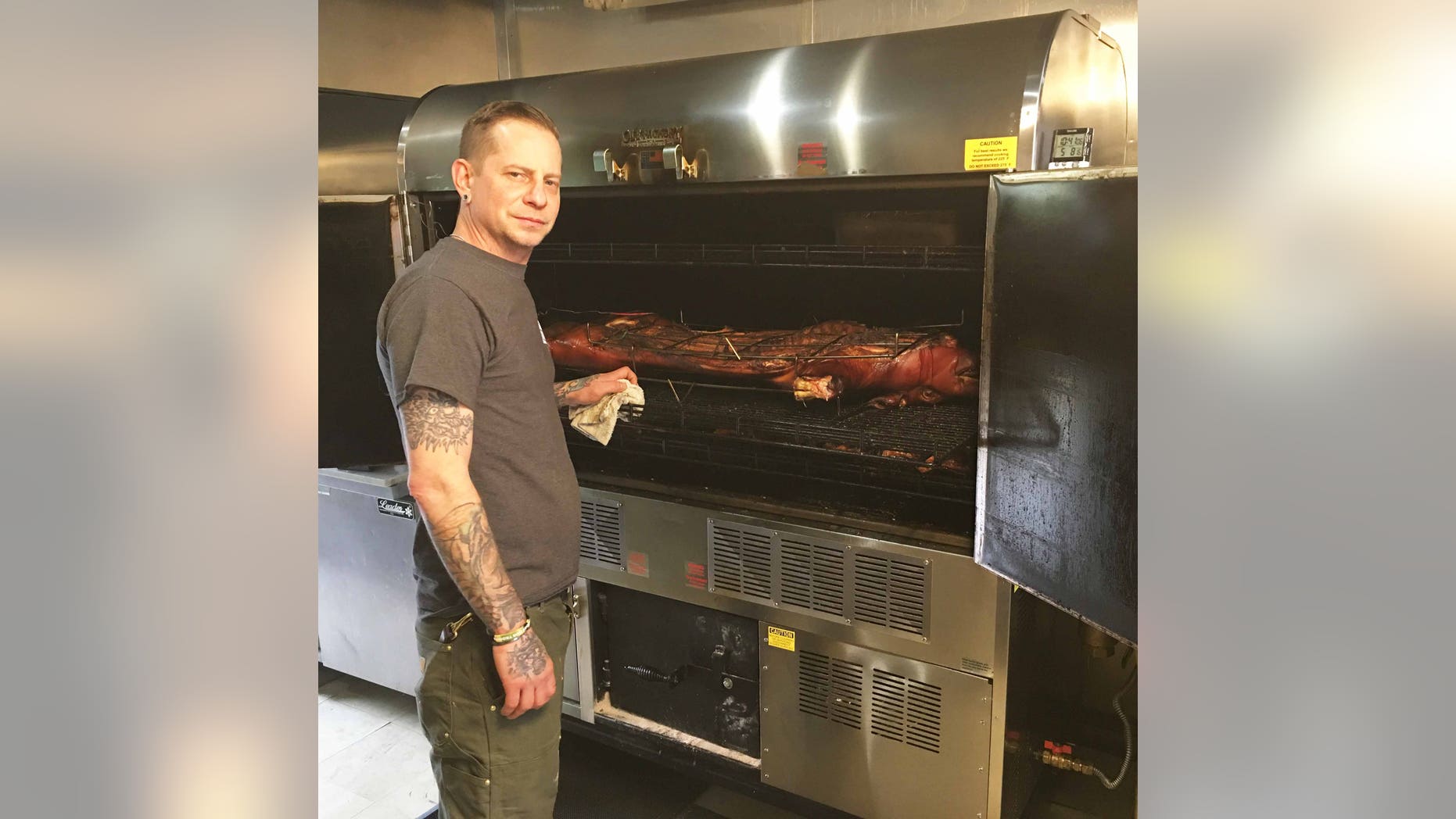 Coming home from a four-year tour with the Marines in 1996, Dan Misuraca missed his buddies terribly as he struggled to slip back into civilian life.
Flash forward 20 years, now Red White & Que Smokehouse in Kearny, N.J., fills that need. The barbecue-focused restaurant, which Misuraca, his wife, Katie, and his Marine buddy, Brian Thigpen, opened in February, is a rare business that's owned by veterans and strives to hire combat vets in the kitchen and dining room.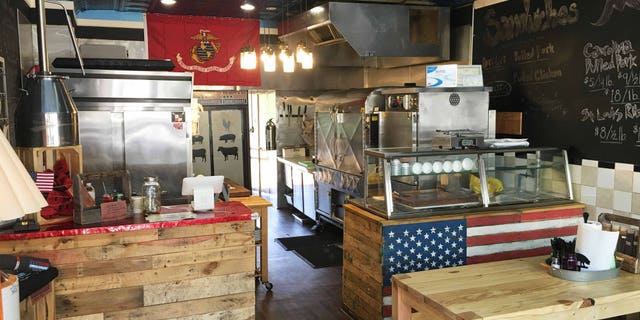 "These kids, these men, are coming back and have seen some serious combat action," says Misuraca. "People really want to be part of something. They lose that camaraderie … after returning from war."
In hiring veterans, Misuraca knows he can count on an unbreakable work ethic. "They know they have to do whatever it takes to get the job done — even if it's a barbecue restaurant," Misuraca says. He now employees three military vets.
But there would be no restaurant if Katie hadn't given her husband a smoker as a housewarming gift in 2014. Before long, they were smoking meat for friends and family.
"We'd smoke whole hogs and have a four-day production," Misuraca says. "We love cooking for everybody."
Last year, the couple smoked pigs for five days straight for a 20-year reunion with Dan's Marine buddies — and that sealed the deal to go big time.
"We didn't take out a loan but we did cash in our 401k and used our personal bank accounts," Misuraca says. "We really didn't want to take on debt. We used the SBA for small businesses classes to try and gain knowledge on running a small business. I spoke with our local VA and they pointed me in the right direction to the SBA for free classes for vets."
Misuraca and his wife quit their jobs at a shoe store in New York City and plunged whole-hog first into the restaurant business.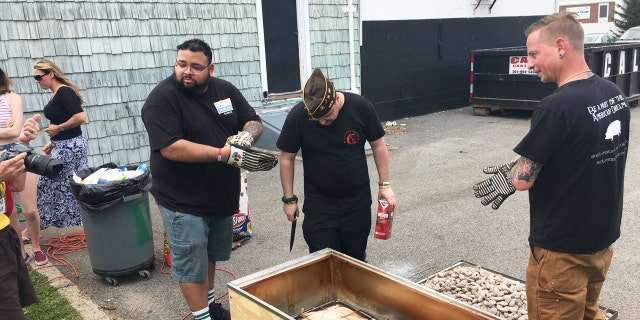 There's no "behind the scenes" at Red White & Que. The restaurant has two communal tables with plastic cutlery and paper towels, and there's an open kitchen so customers can see everything.
"It feels like you're in our back yard having a party," Misuraca  says. "I'm slicing the meat right in front of the customer, conversing with them, telling them our story."
The former marine says his co-owners work together well. Katie Misuraca runs the front of the house and handles customer service, Thigpen makes sure everything is running smoothly in the kitchen, and as for Misuraca?
"I'm the meat guy," he says.
Misuraca  says his wife first balked  at the his suggestion of opening a restaurant, because they knew nothing about ordering food and supplies to serve a crowd. But then they realized they'd learned customer service skills at the shoe store. Both businesses aim to offer a "memorable experience," according to Misuraca  .
Because they smoke their meats overnight, long-range planning when ordering food and supplies is essential. When the last brisket comes out of the smoker, that's it for the night. They offer eight homemade sides — vinegar coleslaw, collard greens with ham hock, mac & cheese, smoked BBQ baked beans, country style potato salad, jalapeno & cheese cornbread, pork rinds and fried smokehouse pickles — and they also make five sauces and pickles, which they put out on every table.
Meat options range from Carolina pulled pork to the highly innovative BBQ Sundae (meat and smoked BBQ baked beans topped with coleslaw and pickles, served in a glass Mason jar).
"Nothing comes out of a can. We make everything with our own hands," says Misuraca.
New Jersey is not known as a barbecue hot spot, so the Misuracas and Thigpen knew they had to win their customers over. Kearny residents have been very supportive, says Misuraca, calling it an "Americana" type of town.
The hard work has paid off with plenty of praise and a five-star rating on Facebook.
Nearly six months in, they haven't looked back and the former Marine says he's fulfilling a lifelong dream after running businesses for other people. "We've always wanted to run our own business," Misuraca says.