Parody video mocks McDonald's polarizing 'Signs' commercial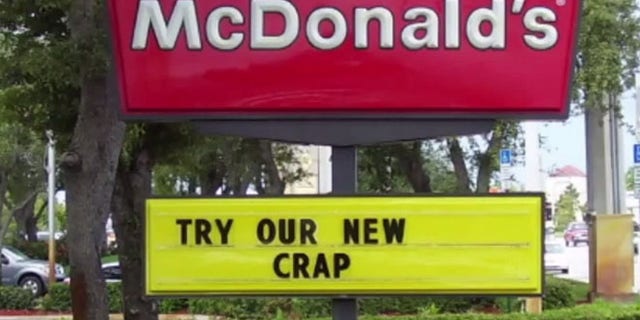 NEWYou can now listen to Fox News articles!
It didn't take long for a parody to pop up following the public outcry over McDonald's new controversial "Signs" ad.
The commercial, designed to tug at America's heartstrings by featuring community-based shout-outs displayed on its marquees, has become the latest thorn in the side of the fast food giant.
In less than 48 hours from when the original ad appeared during the NFL playoffs and the Golden Globes telecast, YouTube user Signlover 15 posted a new video with a decidedly different meaning.
The marquees' inspirational messages were replaced with ones including "Now hiring losers," "Try our new crap," and "Extra McRib with proof."
Warning: Video may be offensive to some.
The original spot, featuring messages like, "We Remember 9/11" ," "Boston Strong" and "Happy 95 Birthday Woody We Love You," sparked a lot of Internet buzz on Monday.
While some said that the message and execution were brilliant, others criticized the fast food chain for packaging America's tragedies to make a buck.
This comes as McDonald's has been under fire from labor activists who want the chain to pay its workers a living wage and health advocates who criticize it for selling junk food to children.
So is this latest attempt by McDonald's to connect with the American people just the public's overreacting to corporate attempts to tug heartstrings? Tell us what you think.