Olive Garden reviewer Marilyn Hagerty tries the chain's new breadstick sandwiches
Octogenarian food critic Marilyn Hagerty thinks Olive Garden's new breadstick sub sandwiches are heavy lifting.
"Well, I thought they were kind of a lot to eat," said the author of the now famous Olive Garden review in Grand Forks, North Dakota that went viral in 2012.
If you'd been out pulling a plow, you'd like it.
"It sort of depends what you've been doing all afternoon. If you'd been out pulling a plow, you'd like it. But I'd rather have the lighter breadsticks with a salad," Hagerty told Chew on This after her first taste of Olive Garden's breadstick sandwiches.
In May, Olive Garden announced it was going to create hoagies from its famous breadsticks -- just eight months after investors lambasted the chain for handing out too many cold breadsticks.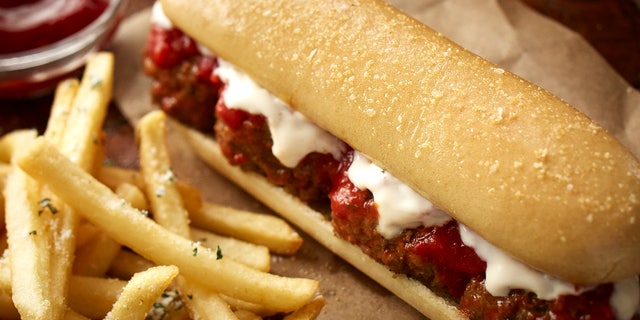 It's all part of the Italian chain's efforts to shake up its stale image. Last fall, the Never Ending Pasta Pass created buzz as one of the most coveted food deals of all time when it handed out 1,000 passes to diners who, for just $100, were able to eat an unlimited amount of meals at any Olive Garden for 49 days.
Self-proclaimed Olive Garden expert and AllOfGarden.com blogger, who goes by "Vino" (he asked we don't use his real name), was one of the lucky few pass holders -- and chronicled his experiences while eating nothing but Olive Garden for the entire seven-week period.
When we asked him about the meatball sandwich breadstick hoagie, well, Vino just couldn't stop eating them. (Maybe Vino's got a bigger appetite than Marilyn).
"I think this is without question the best thing I've ever eaten," Vino said between chews.
Our take:  This might not be the best thing we've ever tasted, but it certainly wasn't bad. Olive Garden told us that the fillings are based on traditional recipes for the chain's meatballs and chicken parmesan, so you are basically getting a plated meal on a bun.
The sandwich is messy -- a knife and a fork approach may work best in this case. We also noticed the breadstick itself was a wider version than what's traditionally served in the restaurant. But the taste is pretty much the same -- a buttery-garlicky, soft bread. (You can read Hagerty's full review of the breadstick sandwiches here.)
Vino, who considers himself to be a "liberal" connoisseur of Olive Garden food, says the breadstick sandwiches can help the chain expand beyond promotional stunts like the all-you-can-eat Never Ending Pasta Bowls. And that attitude appears to be right in line with the brand's new goals for offering different types of food -- faster.
"Our breadstick sandwiches lend themselves well to on-the-go dining," spokeswoman Jessica Dinon said via email. This past quarter, the chain has seen a 22 percent increase in to-go sales. Guests can place orders online and designate their own pickup times for individual or large party orders.
If you can't wait to try one of these breadstick hoagies, Olive Garden is touring the country with four food trucks, handing out free samples as they go. The sandwiches regularly retail for $6.99.
This week, Italian-food lovers in Philadelphia, Central Florida, Phoenix and Salt Lake City can check out OliveGarden.com to find out the exact location of the closest truck.